The Health Policy Project has ended, but work continues under a new USAID five-year project, Health Policy Plus (HP+).
AME GPM Policy
Country & Regional Programs
Strengthen Policy for Sustainable Programs
AME Home | AME GPM | Gender | Policy | Measurement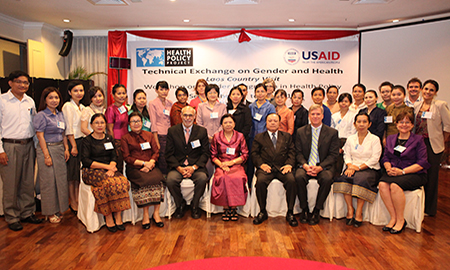 Often, efforts to scale up health programs focus more on expanding activities than on institutionalizing new practices. Adopting new practices in health on a large scale requires systematic approaches to planning, implementation, and follow-up. Any scale-up approach must address the policy and health system dimensions of scaling up, including national and decentralized-level policies. Operational policies and systems, which serve as the rules and guidelines that governments use to translate national laws into programs and services, must also be factored into scale-up initiatives.
For the Gender, Policy, and Measurement program, the Health Policy Project works in collaboration with other partners, including ministries of health and other line ministries, nongovernmental organizations, donors and multilaterals, to ensure that policy and system issues related to health programs are addressed from the very beginning and that strong policies and systems are developed and implemented to foster effective scale-up of health programs.
Asia and Middle East Gender, Policy, and Measurement Program
Contact Information
If your organization or project is interested in working with the Gender, Policy, and Measurement program, please contact:

Elisabeth Rottach, MA
HPP Gender Technical Advisor
ERottach@futuresgroup.com
Publications and Resources
The Policy Dimensions of Scaling Up Health Initiatives
Working paper examining policy issues associated with scaling up family planning and maternal, neonatal, and child health programs.
Approach for Addressing and Measuring Policy Development and Implementation in the Scale-Up of Family Planning and Maternal, Neonatal, and Child Health Programs
This document presents a programming approach designed to help countries advance the integration and measurement of policy development and implementation into the scale-up of family planning and maternal, neonatal, and child health interventions and best practices.