The Health Policy Project has ended, but work continues under a new USAID five-year project, Health Policy Plus (HP+).
NEWS & VIEWS
Plans Underway to Get Devolution Right in Kenya Health Sector
October 24, 2012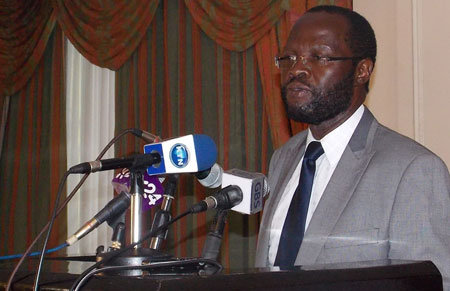 Prof. Anyang Nyong'o affirms that the Kenyan ministries of health are working to ensure a smooth transition during the devolution process, which involves a shift of planning and management responsibilities for health systems to the county level after the March 2013 election.
NAIROBI, Kenya—Kenya's Minister for Medical Services, Prof. Anyang Nyong'o, announced this week that the two ministries of health have made steady progress in preparing for devolution of health services to counties in March 2013 after the national elections. The ministries are working to lay the foundation for a smooth transition of functions and roles from national to county governments.
The Minister was speaking at a consultative meeting in Nairobi, one of a series that has been convened to discuss how devolution of health services will be implemented as the country enters a new governance phase. With only four months to go before the general elections and the inauguration of 47 county governments, the one-day meeting discussed how devolution will impact the health sector, and what needs to be done to ensure that health services and supporting systems are devolved as efficiently as possible to the counties.
"Devolution must be accompanied by properly designed systems of fiscal management and responsibility, evidence-based planning, effective human resources planning, strong accountability mechanisms, proper and effective coordination, political will, and selfless leadership," said the Minister.
Several guiding documents are being prepared for the transition, including the Health Bill 2012 and a health policy framework paper. These have been discussed by the Cabinet, clearing the way for the development of a Sessional Paper. The Sessional Paper will be presented to Parliament for discussion and approval before it recesses in January 2013. A bill to transform the Kenya Medical Supplies Agency (KEMSA) into an autonomous statutory body to improve its performance in the management of pharmaceuticals has also been prepared and will also be tabled in Parliament soon.
At the October 24 meeting, Prof. Nyong'o announced that the two ministries are working with the Transitional Authority to complete an audit of their existing human resources, infrastructure, and assets, and will identify any existing liabilities on the part of either the central or local governments, as well as develop a realistic programme for the transfer of functions to county governments. The ministries are also collecting information to develop "County Facts and Figures," which will provide baseline information to guide counties' investment programmes. He also announced that a Health Services Commission has been proposed in the draft Health Bill to manage public health sector human resources and guide deployment under the new government structure.
It is anticipated that devolution will reshape Kenya's institutional architecture, not just because of the transfer of finance to county levels, but also by bringing the functions and services of many national ministries and local authorities together. To ensure appropriate support to the process, the ministries of health have set up a devolution committee which will advise them on adjustments that need to be made in their strategic plans to respond to the transition.
Some of the issues that need to be addressed, Prof Nyong'o said, include whether the current resources allocated to counties will be sufficient to run high-quality health services and how the health workers will be managed without disenfranchising them in any way.
"Human resources are key in the devolving health services," said the Minister, adding, "Careful planning will be required to ensure that all counties are able to attract and retain high calibre staff across all cadres."
Other issues to be considered include how counties will access pharmaceuticals and other medical supplies, and how they should respond to international agreements such as the Millennium Development Goals and the Abuja Declaration.
Significant work remains to be done as the health sector tries to clarify the division of functions between the national and county-level governments, to remove overlaps and avoid conflict, and to ensure a seamless transition. It is not yet clear which level of government will be responsible for some services, including special programmes such as HIV control, family planning, and immunizations. Some participants expressed concern about the position and role of KEMSA in procurement and management of pharmaceutical products under the devolved governments, given that the counties will have the liberty to obtain their supplies from any other source.
In closing, the Permanent Secretary (PS) of the Ministry of Medical Services, Ms. Mary Ngare, identified several areas of immediate priority for the two health ministries as they prepare for the transition to devolution. These include creating a core team to guide the devolution process; reorganizing the two ministries of health into one Ministry by April 2013; unbundling functions so that there is clarity on the respective roles and responsibilities of the national and county governments; and developing an infrastructure development plan.
Further areas of immediate priority include preparing the necessary guidelines and simplified planning tools for counties to support them in preparing their strategic plans; sensitising county staff on the new systems; and reviewing the roles of institutions that operated under laws that have been repealed.
"It's time to roll up our sleeves and provide leadership to this process," the PS said, adding that the ministry will be calling upon stakeholders to identify areas where they can provide technical and financial support.
The one-day meeting was attended by participants drawn from the government, private-sector organisations, development partners and other stakeholders. The meeting was supported by the USAID-funded Health Policy Project (HPP).

Read the consultative meeting report
Read related news article in Kenya's Daily Nation
Read related news article in Kenya's Capital FM
Read more about the Health Policy Project program in Kenya
Presentations
Below are links to presentations made by officials and health experts at the Devolution and Health Consultative Meeting on October 24, 2012:
Commission on Revenue Allocation Presentation: Recommendations on Sharing Revenue between the National and County Governments (PDF)
Commission on Revenue Allocation Presentation: Devolution and the Health Sector (PDF)
Presentation: Highlights of the Public Finance Management Act of 2012 (PDF)
Health Policy Project Presentation: Devolution and the Health System in Kenya (PDF)
Public Service Commission of Kenya Presentation: Devolution and Human Resources (PDF)
Kenya Transition Authority Presentation: Transitional Framework Clauses and Impact on Devolved Government and Health Systems (PDF)