Kenya

Country & Regional Programs
Overview
Over the past several decades, Kenya has become an economic hub in East Africa. However, many segments of the population have minimal access to high-quality healthcare and social services. In 2010, the Government of Kenya enacted a new constitution which outlines a framework to alleviate poverty, with a focus on improving governance and addressing inequalities in health, education, and economic growth. The new constitution creates a new, restructured system of devolved governance with two tiers of elected government at national and county levels. As a result, health-related policies and regulations will need to be revised in order to help the government attain its goal of strengthening the national healthcare system, particularly at the county and community levels.
What We Do
The Health Policy Project (HPP) is working with partners in Kenya to strengthen the country's health systems during the transition to a devolved system of government and a decentralized health infrastructure. Our programs provide technical assistance to strengthen the use of data and evidence in formulating effective new health policies and laws. We also work with government and health institutions to develop effective and efficient financing mechanisms that maximize the country's funding resources to deliver high-quality, equitable, and affordable healthcare services to all Kenyans.
Provide Assistance in Policy Formulation, Dissemination, and Implementation
Sound policies based on a solid base of data and evidence are the cornerstone of every country's health systems. HPP works with several ministries and agencies within the Government of Kenya to help strengthen the use of evidence-based decision-making in formulating new health laws and policy documents. Our program also promotes open dialogue, helping form consensus in implementing new decentralized health strategies that expand the reach of essential services and commodities.
Strengthen Capacity for Results-Based Health Financing and Budgeting
HPP provides support to government ministries, health institutions, and other organizations to develop innovative and equitable financing strategies that enhance access to healthcare. We also provide technical assistance in implementing information systems to track costs and expenditures and monitor service delivery areas. As a result, stakeholders are better able to analyze the effectiveness of these strategies and use this information to maximize the resources needed to improve the health of Kenyans, especially poor and marginalized populations.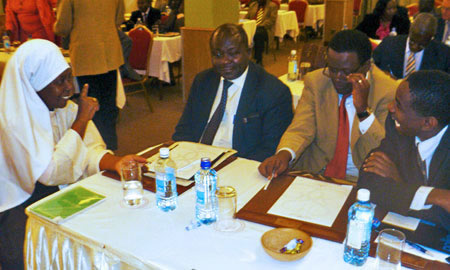 Delegates attending HPP workshop
Strengthen Capacity of Kenyan Institutions to Participate in Health Policy Formulation
To help ensure long-term sustainability in Kenyan health policy, HPP is working to build the capacity of local institutions to engage Ministry of Health and other government officials during the decision-making process and lend their voice to formulate policies that ensure equitable access to health services. We also provide technical assistance to these organizations to help them monitor and evaluate their capacity development plans and improve their overall effectiveness.
Publications and Resources
Public Expenditure Tracking Survey in Kenya, 2012 (PETS-Plus)
The public expenditure tracking survey with service delivery indicators (PETS-Plus) survey was a comprehensive exercise conducted in 2012 by the Ministry of Health, Kenya in collaboration with the USAID- and PEPFAR-supported Health Policy Project, Kenya Institute of Public Policy Research and Analysis, the World Bank, and the Kenya Medical Research Institute. The PETS-Plus combines the expenditure tracking surveys previously conducted in Kenya with health service indicators (SDI) to provide a comprehensive view of health facilities' overall performance and the impacts of key policy reforms in the sector.
Cost of Providing Oral Pre-Exposure Prophylaxis to Prevent HIV Infection Among Sex Workers in Kenya
In collaboration with the National AIDS and STI Control Program and the Sex Worker Outreach Program, the Health Policy Project conducted a study to address the following questions: How much does it cost to provide oral PrEP to one sex worker for a year? And, how much would it cost to scale up oral PrEP to all sex workers country-wide?
Demographic Dividend Opportunities for Kenya: Results from the DemDiv Model
This brief describes the potential for a demographic dividend in Kenya, based on the pilot application of DemDiv, a new modeling tool developed by the USAID-funded Health Policy Project that projects the demographic and economic effects of interacting policy changes in the family planning, education, and economic sectors.
Kenya Health Policy Forum - Improving Health Outcomes and Services for Kenyans: Sustainable Institutions and Financing for Universal Health Coverage
In March, the Kenya Ministry of Health convened an international consultation forum in collaboration with the World Bank Group and the United States Agency for International Development through the Health Policy Project to deliberate on the challenges of providing universal health coverage (UHC) to all Kenyans, regardless of their ability to pay, and to explore strategic and sustainable health financing options. The Kenya Health Policy Forum reviewed options and lessons learned from other countries, and proposed recommendations on how the country can improve efficiency to achieve UHC.
Free Maternal Care and Removal of User Fees at Primary-Level Facilities in Kenya
In June 2013, President Uhuru Kenyatta of Kenya announced policies to remove user fees in dispensaries and health centers and to provide free maternal health services in all public health facilities. This report presents the findings of a study conducted in Kenya by the USAID-funded Health Policy Project (HPP) to establish baseline measures for evaluating the impact of these policies.
Incentivizing Performance: Conditional Grants in Kenya's Health System
This report provides and introduction to conditional grants and describes how Kenya can use them to strengthen its health systems during the transition to a devolved system of government and a decentralized health infrastructure.
Kenya County Health Fact Sheets
HPP worked with the Kenya Ministry of Health to create 47 County Health Fact Sheets that provide a county-level snapshot of selected health indicators in Kenya. They display county-specific health data and compare those data to national figures. The fact sheets bring together data from a wide array of sources and are intended to be a quick reference for a broad audience, including advocates, policymakers, health sector stakeholders, and development partners. To view or download the fact sheets for individual counties, click here.
Incentivizing Performance: Applications for Conditional Grants in Kenya's Health System
This brief, produced by the USAID- and PEPFAR-funded Health Policy Project, provides an introduction to conditional grants and how Kenya can use them to strengthen its health systems during the transition to a devolved system of government and a decentralized health infrastructure.
Directory of Health Policy Institutions in Kenya: Resources for Strengthening Health Policy, Finance, and Governance
The Health Policy Project assembled this directory to help government agencies, development partners, and other local and international organizations identify Kenyan institutions with the skills and experience to support their health policy, finance, and governance needs. The directory is also designed to promote information sharing among the institutions it lists, as well as collaboration and partnerships, both international-local and local-local.
An Agenda for Research on the Effectiveness of Community-Based HIV Care and Treatment
Community-based models for HIV treatment and care have shown promise in some sub-Saharan countries, especially to improve patient outcomes and to increase the sustainability of the overall program. We reviewed the state of evidence for implementing community-based approaches to care and treatment in Kenya. While some of the evidence suggests that such models can be applicable and beneficial, more data and Kenya-specific evaluation is required before concrete recommendations can be made. The brief proposes a research agenda for Kenya in this regard.
Health Policy Project Kenya overview brief (PDF)
Taking the Pulse: What Kenyan Presidential Candidates Promised on Health and Why it Matters
This report documents pledges, commitments, and promises made by the 2013 presidential candidates about the health sector in Kenya. This provides stakeholders a reference point from which to hold the incoming government accountable on public promises and serve as an advocacy tool in pursuing further commitments that improve the public health sector.
Costing Kenya's Current and Proposed HIV Testing and Counseling Algorithms
HPP and the National AIDS and STI Control Programme (NASCOP) conducted this analysis, which highlights the cost savings of three newly proposed algorithms for HIV testing and counseling, and proposes a recommendation for a more cost-efficient algorithm.
Prevention of Mother-to-Child Transmission in Kenya: Cost-Effectiveness of Option B+
This analysis examines the costs associated with implementing a scale-up of the World Health Organization Option B+ to prevent mother-to-child HIV transmission and compares this approach with other strategies. Results show that Option B+ will avert infant and adult infections, but at a significant additional cost.
Devolution and Health in Kenya: Consultative Meeting Report - 24 October, 2012
The Kenya Ministry of Medical Services and the Ministry of Public Health and Sanitation, in partnership with the Health Policy Project, convened two meetings to discuss Kenya's devolution of power and its impact on the health sector. This report summarizes proceedings from the second meeting on October 24, 2012 and the country's key next steps.
Preventing Transfusion-Transmissible Infections in Kenya: Steps to Increase the Supply of Screened Blood
This brief summarizes the analysis conducted, presents the cost-benefit results of completely screening the existing blood supply (in terms of infections averted), and outlines cost-efficient steps for increasing the total screened blood supply.
Training and Mentoring Health Workers for the HIV/AIDS Program in Kenya: Efficient Choices in a Revised Skills-Building Strategy
The National AIDS and STI Control Programme (NASCOP), a department of the Ministries of Health, Kenya, is considering a major change to the process in which clinical health workers in the public sector are provided training on HIV/AIDS. This brief provides evidence to support the policy change and is also instructive for training discussions in other vertical programs.
Integration of Efficiency and Effectiveness in HIV and AIDS Programmes in Kenya: Multistakeholder Meeting Report
This brief report summarizes discussions from a multistakeholder meeting, organized by the Kenya National AIDS Control Council, which focused on allocative efficiency, HIV program efficiency and sustainability, and HIV response evaluations within the context of the Kenya National AIDS Strategic Plan.
News
Health Policy Project Supports the Restructuring of Mombasa County Health Services
The Health Policy Project (HPP) in Kenya recently gave assistance to the Mombasa County Department of Health to develop a new organisational structure as part of its ongoing restructuring efforts. The new structure will help to clarify roles and responsibilities in the management of health services in the county under the devolved governance system.
HPP Supports County Teams in Kenya to Deliberate the Health Agenda
The USAID-funded Health Policy Project (HPP) recently convened a consultative forum for leaders of county health services in Kenya. The two-day meeting brought together County Executive Committee (CEC) members for health from 35 of Kenya's 47 counties to share experiences in managing devolved health services in the country and to identify issues requiring further discussion with the national Ministry of Health (MoH).
Demographic Dividend Model Launched in Kenya
The Demographic Dividend model (DemDiv model) was launched at an event attended by government officials and partners and representatives of agencies working in the health and economic sectors. It has been pilot-tested in the country in a project led by the National Council for Population and Development (NCPD), and funded by United States Agency for International Development (USAID) through the Health Policy Project.
Health Policy Project Helps Kenya to Secure US$223M for HIV Programs
The Health Policy Project (HPP) Kenya recently provided technical assistance to Kenya to prepare a successful application for funds for HIV programs from the Geneva-based Global Fund for AIDS, Malaria and Tuberculosis (Global Fund). HPP's assistance in the process included conducting financial analyses that provided justification for the budget levels requested.
Kenya Parliamentary Committee on Health Deliberates over Proposed Health Policy
Kenya's Parliamentary Committee on Health begins a three-day meeting to conduct a final review of the Kenya Health Policy, which provides the framework that will guide health sector operations between 2014 and 2030.
Charting a Course Toward Universal Health Coverage in Kenya: Experts See Efficiency, Governance, and Sustainable Financing as Keys to Success
From March 18-20, 2014, the Kenya Health Policy Forum brought together health financing experts with local and national government representatives to discuss these challenges and find a way to fast-track progress toward UHC.
Press Release: International Forum to Focus on Public Health Financing and Improved Health Outcomes for All Kenyans (March 10, 2014, PDF)
Kenya Adopts New Cost-Effective Algorithms to Expand HIV Testing Coverage
HIV testing and counseling (HTC) services have long been a keystone of HIV programming worlKenya Parliamentary Committee on Health Deliberates over Proposed Health Policydwide, enabling individuals to learn their HIV status, seek treatment and care if needed, and develop a personal prevention program, goals that support the broader public health objective of lowering the rate of HIV transmission. HTC is a critical element of Kenya's HIV/AIDS response and is integrated it into all HIV interventions.
Policy Changes to Benefit Women: Ministry of Health Implements Free Maternity Services Nationwide
On June 1, 2013, President Uhuru Kenyatta announced that the Jubilee Government had abolished maternity charges in public health facilities. In keeping with the promises made by the Jubilee Alliance during the election campaigns, the President said that scrapping of the fees would help all expectant mothers access maternal care and would also help reduce maternal deaths.
Kenya Kicks Off Third Round of Household Health Expenditure and Utilization Survey
In July 2013, Kenya launched a new round of a survey to gather information on national and county-level estimates on health-seeking behaviors of households, households' utilization of different modes of healthcare delivery, and their out-of-pocket costs related to healthcare.
Fees for Maternity Services Abolished to Reduce Maternal Deaths
As of June 2013, in an effort to improve health equity and lower rates of maternal mortality, the Kenyan government has announced it will no longer charge fees for maternal deliveries and other maternal services at public health facilities.
Forum Focuses on Kenya's Efforts to Eliminate Mother-to-Child HIV Transmission Within a Devolved System of Governance
At a June 2013 forum in Nairobi, HPP presented on key issues in achieving elimination of mother-to-child transmission of HIV within the country's newly devolved governance framework.
Training for Kenya's Counties Team Supports Transition to a Devolved Health System
In May 2013, HPP co-sponsored a workshop to help the country's 47 county-level health directors understand their mandate within Kenya's newly devolved national health framework.
Plans Underway to "Get Devolution Right" in Kenya's Health Sector
Also includes links to presentations made by officials and health experts at the Devolution and Health Consultative Meeting in Nairobi, Kenya on October 24, 2012.
Leaders Discuss Universal Coverage at Health Financing Summit in Kenya
Also includes links to presentations made by officials and health experts at the Health Care Financing Stakeholders Meeting on August 30, 2012.
Partners
HPP collaborates with a range of in-country and international partners in Kenya, including:
Deutsche Gesellschaft für Internationale Zusammenarbeit, German Agency for International Cooperation (GIZ)
Kenya Institute for Public Policy Research and Analysis (KIPPRA)
Kenya National Bureau of Statistics
Ministry of Medical Services
Ministry of Public Health and Sanitation
National AIDS Control Council
National HIV/AIDS and STD Control Programme
The World Bank
World Health Organization (WHO)