Kenya

Country & Regional Programs
Overview
Over the past several decades, Kenya has become an economic hub in East Africa. However, many segments of the population have minimal access to high-quality healthcare and social services. In 2010, the Government of Kenya enacted a new constitution which outlines a framework to alleviate poverty, with a focus on improving governance and addressing inequalities in health, education, and economic growth. The new constitution creates a new, restructured system of devolved governance with two tiers of elected government at national and county levels. As a result, health-related policies and regulations will need to be revised in order to help the government attain its goal of strengthening the national healthcare system, particularly at the county and community levels.
What We Do
The Health Policy Project (HPP) is working with partners in Kenya to strengthen the country's health systems during the transition to a devolved system of government and a decentralized health infrastructure. Our programs provide technical assistance to strengthen the use of data and evidence in formulating effective new health policies and laws. We also work with government and health institutions to develop effective and efficient financing mechanisms that maximize the country's funding resources to deliver high-quality, equitable, and affordable healthcare services to all Kenyans.
Provide Assistance in Policy Formulation, Dissemination, and Implementation
Sound policies based on a solid base of data and evidence are the cornerstone of every country's health systems. HPP works with several ministries and agencies within the Government of Kenya to help strengthen the use of evidence-based decision-making in formulating new health laws and policy documents. Our program also promotes open dialogue, helping form consensus in implementing new decentralized health strategies that expand the reach of essential services and commodities.
Strengthen Capacity for Results-Based Health Financing and Budgeting
HPP provides support to government ministries, health institutions, and other organizations to develop innovative and equitable financing strategies that enhance access to healthcare. We also provide technical assistance in implementing information systems to track costs and expenditures and monitor service delivery areas. As a result, stakeholders are better able to analyze the effectiveness of these strategies and use this information to maximize the resources needed to improve the health of Kenyans, especially poor and marginalized populations.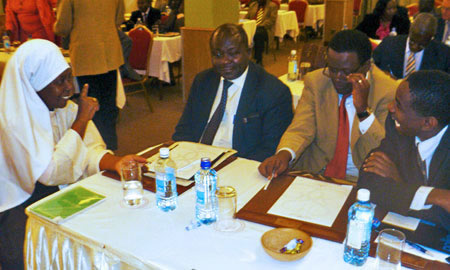 Delegates attending HPP workshop
Strengthen Capacity of Kenyan Institutions to Participate in Health Policy Formulation
To help ensure long-term sustainability in Kenyan health policy, HPP is working to build the capacity of local institutions to engage Ministry of Health and other government officials during the decision-making process and lend their voice to formulate policies that ensure equitable access to health services. We also provide technical assistance to these organizations to help them monitor and evaluate their capacity development plans and improve their overall effectiveness.
Publications and Resources
Healthcare Financing Options for Kenya: FY 2013/14–2029/30
In order to expand and ensure widespread access to healthcare services and protect households from what are termed "catastrophic" health expenditures, Kenya needs alternative and sustainable healthcare financing mechanisms. The Health Policy Project supported the government of Kenya to analyze the long-term health delivery costs and health financing options available to the country. Employing a number of economic and health financing tools, the analysis
Devolution of Kenya's Health System: The Role of HPP
This brief gives an overview of HPP/Kenya's role in the devolution of Kenya's health system including supporting national level stakeholders to consider the implications of devolution; incorporating legislative guidance on decentralization into health sector planning; facilitating county-level institutional reform; and ensuring that county health management teams have the structures necessary to respond to the challenges of devolution.
Policy Analysis and Advocacy Decision Model for Services for Key Populations in Kenya
The Policy Analysis and Advocacy Decision Model for Services for Key Populations in Kenya provides stakeholders—including policy makers, service providers, and advocates—with tools to assess and advocate policies that govern accessibility and sustainability of services for key populations (men who have sex with men, sex workers, people who inject drugs, and transgender people). By comparing existing Kenyan policies to the global normative guidelines and best practices, the model reveals gaps and challenges in implementation.
Public Expenditure Tracking Survey in Kenya, 2012 (PETS-Plus)
The public expenditure tracking survey with service delivery indicators (PETS-Plus) survey was a comprehensive exercise conducted in 2012 by the Ministry of Health, Kenya in collaboration with the USAID- and PEPFAR-supported Health Policy Project, Kenya Institute of Public Policy Research and Analysis, the World Bank, and the Kenya Medical Research Institute. The PETS-Plus combines the expenditure tracking surveys previously conducted in Kenya with health service indicators (SDI) to provide a comprehensive view of health facilities' overall performance and the impacts of key policy reforms in the sector.
Demographic Dividend Opportunities for Kenya: Results from the DemDiv Model
This brief describes the potential for a demographic dividend in Kenya, based on the pilot application of DemDiv, a new modeling tool developed by the USAID-funded Health Policy Project that projects the demographic and economic effects of interacting policy changes in the family planning, education, and economic sectors.
Kenya Health Policy Forum - Improving Health Outcomes and Services for Kenyans: Sustainable Institutions and Financing for Universal Health Coverage
In March, the Kenya Ministry of Health convened an international consultation forum in collaboration with the World Bank Group and the United States Agency for International Development through the Health Policy Project to deliberate on the challenges of providing universal health coverage (UHC) to all Kenyans, regardless of their ability to pay, and to explore strategic and sustainable health financing options. The Kenya Health Policy Forum reviewed options and lessons learned from other countries, and proposed recommendations on how the country can improve efficiency to achieve UHC.
Kenya County Health Fact Sheets
HPP worked with the Kenya Ministry of Health to create 47 County Health Fact Sheets that provide a county-level snapshot of selected health indicators in Kenya. They display county-specific health data and compare those data to national figures. The fact sheets bring together data from a wide array of sources and are intended to be a quick reference for a broad audience, including advocates, policymakers, health sector stakeholders, and development partners. To view or download the fact sheets for individual counties, click here.
Devolution and Health in Kenya: Consultative Meeting Report - 24 October, 2012
The Kenya Ministry of Medical Services and the Ministry of Public Health and Sanitation, in partnership with the Health Policy Project, convened two meetings to discuss Kenya's devolution of power and its impact on the health sector. This report summarizes proceedings from the second meeting on October 24, 2012 and the country's key next steps.
News
Kenya on the Path to Launching a Gender Health and Equality Policy
Kenyan health sector stakeholders recently met in Nairobi to discuss the proposed Health Sector Gender and Equality Policy, which would address issues of gender and inequality within the sector. They concluded that the policy is timely and will help to eliminate long-standing inequities.
HPP Supports Government In Developing New Kenya AIDS Strategic Framework
On November 28, 2014, the Ministry of Health, through the National AIDS Control Council (NACC) launched the Kenya HIV and AIDS Strategic Framework 2014/15-2018/19 (KASF), developed in collaboration with a variety of stakeholders including the USAID-funded Health Policy Project (HPP). KASF will act as the primary document guiding the country's HIV response for the next five years.
Health Policy Project Supports the Restructuring of Mombasa County Health Services
The Health Policy Project (HPP) in Kenya recently gave assistance to the Mombasa County Department of Health to develop a new organisational structure as part of its ongoing restructuring efforts. The new structure will help to clarify roles and responsibilities in the management of health services in the county under the devolved governance system.
HPP Supports County Teams in Kenya to Deliberate the Health Agenda
The USAID-funded Health Policy Project (HPP) recently convened a consultative forum for leaders of county health services in Kenya. The two-day meeting brought together County Executive Committee (CEC) members for health from 35 of Kenya's 47 counties to share experiences in managing devolved health services in the country and to identify issues requiring further discussion with the national Ministry of Health (MoH).
Demographic Dividend Model Launched in Kenya
The Demographic Dividend model (DemDiv model) was launched at an event attended by government officials and partners and representatives of agencies working in the health and economic sectors. It has been pilot-tested in the country in a project led by the National Council for Population and Development (NCPD), and funded by United States Agency for International Development (USAID) through the Health Policy Project.
Health Policy Project Helps Kenya to Secure US$223M for HIV Programs
The Health Policy Project (HPP) Kenya recently provided technical assistance to Kenya to prepare a successful application for funds for HIV programs from the Geneva-based Global Fund for AIDS, Malaria and Tuberculosis (Global Fund). HPP's assistance in the process included conducting financial analyses that provided justification for the budget levels requested.
Partners
HPP collaborates with a range of in-country and international partners in Kenya, including:
Deutsche Gesellschaft für Internationale Zusammenarbeit, German Agency for International Cooperation (GIZ)
Kenya Institute for Public Policy Research and Analysis (KIPPRA)
Kenya National Bureau of Statistics
Ministry of Medical Services
Ministry of Public Health and Sanitation
National AIDS Control Council
National HIV/AIDS and STD Control Programme
The World Bank
World Health Organization (WHO)