The Health Policy Project has ended, but work continues under a new USAID five-year project, Health Policy Plus (HP+).
Empowering Women Leaders

Overview
Family planning and reproductive health (FP/RH) are crucial components in ensuring the health and well-being of individuals, families, and communities throughout the world. These services can improve women and children's overall health, reduce maternal and child mortality, and help prevent HIV. Yet access to high-quality reproductive health services remains a challenge.
Inequitable social and gender norms limit women's access to family planning resources and the choice to use any method of family planning can often lie beyond their own authority. These social barriers prevent them from participating in the decision-making process, whether at the family level or within community and government institutions that influence policy. While there are growing numbers of women in policy positions, they often struggle for a significant role among policy elites. This creates an environment in which women—the individuals most directly and profoundly impacted by FP/RH policies, insufficient funding, and poor or inaccessible services—are not heard by those in authority.
As governments determine priorities in national health programs, it is essential that women's voices be central in the policymaking process. Empowering women leaders to become staunch advocates for family planning can help ensure that FP/RH programs receive the funding and resources required to ensure implementation. It also enables women at the community level to make decisions about their family size, spacing of pregnancies, and use of contraceptives.
What We Do
Women leaders are credible and passionate advocates for issues surrounding family planning and women's rights. They are also respected by their communities and have influence with policymakers. The Health Policy Project (HPP) is working to expand the number of women FP/RH champions by strengthening their capacity to lead and advocate for increased commitment toward family planning programs. We work with women representing government, civil society, and parliaments to support opportunities that enhance their roles to engage as full partners in policy and expand FP/RH services. Women not only benefit from these initiatives, but the health of an entire country can also be improved under the leadership of women.
Under HPP, we:
Strengthen the capacity of women leaders and their organizations through workshops, south-south mentoring and coaching, small grants, and technical assistance
Identify networking opportunities for women share knowledge and resources, and build inter-organizational relationships with other women leaders
Increase the advocacy skills of women parliamentarians to prioritize funding and commitments toward family planning programs
Work with indigenous women's networks to address inequities in health services
Build the capacity of local health management committees to ensure equitable access to health and family planning services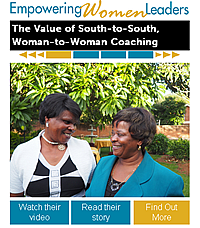 The Empowering Women Leaders for Country-Led Development program fostered yearly cadres of women champions from Ethiopia, Ghana, Kenya, Malawi, Tanzania, and Uganda to engage in family planning and reproductive health decision making and to advocate for policy change. The 70 alumnae represent civil society organizations, government ministries, faith-based organizations, and elected bodies at local and national levels and comprise a wide range of backgrounds and experience. The program included a three-week intensive skills-building workshop focused on personal leadership, advocacy, and networking skills; seed funds to implement local advocacy; one year of south-to-south coaching by a Plan USA-trained coach; and ongoing technical assistance and networking support.
News
Building a Drumbeat from the Ground Up
For nearly five years, the USAID-supported Health Policy Project (HPP) through Plan International USA, has been working to help women around the world elevate their voices; to strengthen the skills and confidence they need to advocate for effective family planning and reproductive health (FP/RH) policies in their countries.
"I'm Already Changed": Women's Leadership Workshop Acts as Catalyst for Change
On July 14, 2014, the Health Policy Project's third annual Women's Leadership in Family Planning and Reproductive Health Workshop brought together 22 women from six countries—Ethiopia, Ghana, Kenya, Malawi, Tanzania, and Uganda—for three weeks of intensive capacity development designed to help them become stronger leaders and more effective advocates for family planning and reproductive health (FP/RH) issues.
African Women MPs Discuss Family Planning Women leaders discussed ways they could reposition family planning and reproductive health on the development agendas of their respective government budgets during a two-day capacity building meeting held in Kampala, Uganda.

African Women Leaders Sharpen Advocacy Skills to Expand Family Planning
Twenty-four women attend workshop to focus on policies and commitments that help provide reproductive health services to women in home countries.
Story from the Field: African Women Leaders Add their Voices to Development
Nyokabi Ruth Musila is a strong advocate for family planning. She feels that "breaking misconceptions" is vital, and providing policy makers, civil society advocates and other key decision makers with evidence they can use to do that is the way forward.
Advocating for Life-Saving Changes
Former Ugandan parliamentarian Beatrice Rwakimari was one of 24 participants in a workshop to strengthen African women leaders' participation in defining country priorities for family planning and reproductive health.
Indigenous Women Urge Political Commitment for FP/RH in Guatemala
The National Alliance of Organizations for Reproductive Health of Indigenous Women of Guatemala organized a public forum with candidates for the national congress to demand greater commitment for improving the reproductive health of indigenous women.
Publications and Resources
Women Transforming: Empowering Women Leaders for Country-Led Development
Despite recent progress, women still face many challenges as they strive to become effective policy leaders and FP/RH champions. Investing in women's leadership can yield far-reaching dividends; not only for women themselves, but also for the institutions they represent, their communities, and society.
Strengthening Women's Capacity to Influence Health Policy Making: How Coaching Helps Translate Learning into Action
This brief describes workshop participants' experiences with their coaches, and includes guidance on the effective use of a coaching model for capacity development.
Working Paper: Integrating Gender into the Scale-up of Family Planning and Maternal, Neonatal, and Child Health Programs
Working paper analyzing whether gender factors in planning and scaling up programs improves the effectiveness of that process.
Photo Gallery: Women Parliamentarians Meeting
HPP and Partners in Population and Development Africa Regional Office (PPD ARO) organized a workshop for women parliamentarians focusing on leadership for family planning and reproductive health in Uganda in August 2012.