The Health Policy Project has ended, but work continues under a new USAID five-year project, Health Policy Plus (HP+).
NEWS & VIEWS
African Women Leaders Sharpen Advocacy Skills to Expand Family Planning
Posted June 3, 2013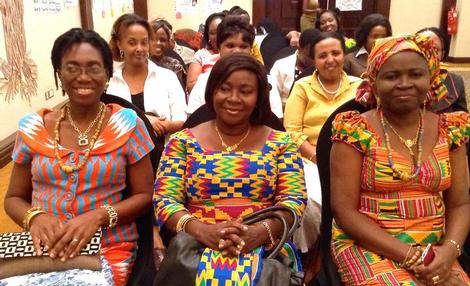 Women leaders from Ghana were among the participants at the policy dialogue event. Pictured from left to right: Irene Agyemang, Program Officer for USAID | Deliver project in Ghana; Ivy Efua Sackey, Head of Nursing and Midwifery Health Training Intuitions at Ghana's Ministry of Health; and Beatrice Williams, Head of the Nursing and Midwifery Training College in Kumasi, Ghana.Photo by Amy Sunseri/Health Policy Project
NAIROBI, Kenya—In collaboration with the International Planned Parenthood Federation/Africa Regional Office (IPPF-ARO), the Health Policy Project (HPP) convened a three-week Women's Leadership for Family Planning and Reproductive Health training program in May 2013. The workshop brought together 24 women leaders from six African countries to strengthen their capacity to advocate for increased support for family planning and reproductive health in their respective nations. Women leaders participating in the training program were comprised of officials from government health institutions, parliamentary and legislative bodies, and civil society organizations from Ethiopia, Ghana, Kenya, Malawi, Tanzania, and Uganda.
The workshop culminated in a special policy dialogue event to discuss Kenya's family planning service provision guidelines. These new guidelines took effect in November 2012, permitting community health workers in underserved and remote areas of Kenya to administer injectable contraceptives to women. As a result, many thousands of women will now have access to reproductive health services, contributing to healthier mothers, children, families, and communities in which they live.
The panel discussion featured Rose M. Maina, senior technical officer for Jhpiego's Advance Family Planning program, Luciana Chepkoech Koske, senior technical advisor for Children's Health Fund (CHF) International, and Lucien Kouassi Kouakou, regional director for IPPF in Africa. In addition, the Honorable Benny Bugembe, Member of Parliament in Uganda, shared her experience and lessons learned with similar legislation in place in her country.
Participants articulated their support for the need to expand health and family planning services, with dialogue centering on ensuring that community health workers receive training required to properly administer injectable contraception. The event also allowed workshop participants the chance to draw upon their newly honed advocacy and public speaking skills.
When asked about the impact of the workshop, a female member of parliament in Uganda said, "Before today I didn't know what advocacy was. I thought that when we talked and made noise, we were doing advocacy. Now I know."
The workshop in Nairobi is part of HPP's larger effort to increase the number of women leaders involved in advocating for improved health policies and systems, and to empower them to lead and advocate for increased commitment toward family planning programs. Since 2012, 48 women leaders in Africa have participated in HPP family planning advocacy and leadership workshops. At HPP, we believe that women not only benefit from these initiatives, but the health of an entire country can also be improved with greater leadership by women.
Read more about Health Policy Project programs that empower women leaders