The Health Policy Project has ended, but work continues under a new USAID five-year project, Health Policy Plus (HP+).
PUBLICATION
RAPIDWomen Ethiopia: Empower Women, Build the Future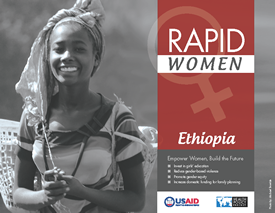 Author(s): Health Policy Project
Primary Language: English
Date: 3/31/2015
Abstract:
In recent decades, Ethiopia has made impressive progress in improving socioeconomic outcomes and reducing child and maternal mortality. This brief, prepared by the Health Policy Project, outlines the current status of women and girls in Ethiopia and provides recommendations on how to improve girls' education, gender norms, and family planning to benefit women, their families, and the country.