The Health Policy Project has ended, but work continues under a new USAID five-year project, Health Policy Plus (HP+).
NEWS & VIEWS
Health Financing Meeting in Kenya Discusses Impact on Mother-to-Child HIV Transmission
Posted June 19, 2013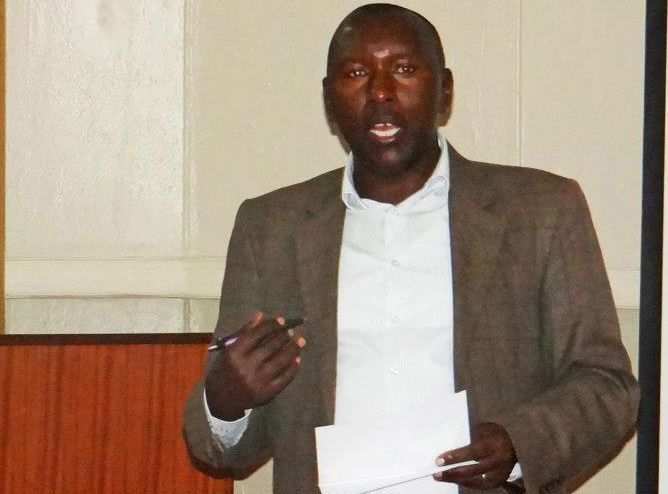 Health Policy Project/Kenya Program Director Stephen Muchiri makes a presentation on preparing Kenya's counties to provide services to eliminate mother-to-child HIV transmission.
Photo by Health Policy Project.
NAIROBI, Kenya—At a recent forum in Nairobi, the Health Policy Project (HPP) presented on key issues in achieving elimination of mother-to-child transmission (EMTCT) of HIV within the country's newly devolved governance framework.
Kenya has an ambitious goal of lowering the rate of HIV transmission from mother to child to under 5 percent. This is in line with the objectives of a 2011 UN high-level agreement involving 22 countries to dramatically reduce mother-to-child HIV transmission as well as AIDS-related maternal deaths.
Kenya's 2010 Constitution created a devolved system of government that assigns service delivery functions to counties while the national government is responsible for policies, standards, national referral facilities, and capacity building. Starting July 1, 2013, funds for service delivery will be transferred to the counties following the cardinal principle, "Money follows function." The assignment of function therefore places enormous responsibility on county governments to deliver on the country's EMTCT targets.
To respond to this challenge, from June 17 to 18, 2013, UNICEF brought together U.S. Government EMTCT implementing partners in Nairobi to discuss their role in achieving EMTCT targets at the county level under a devolved system of governance. At the forum, HPP, funded by the U.S. Agency for International Development, made a presentation on health financing under the devolved system of governance and its potential implications for EMTCT efforts. HPP/ Kenya Director Stephen Muchiri discussed the overall devolution framework and assignment of functions, an overview of Kenya's current resource allocation in health, and the allocation of health funds by level of government, concluding with a summary of key issues for consideration, including procurement of pharmaceuticals and staffing.
The full presentation is available here (PDF).
The presentation generated a rich discussion of partnership frameworks under devolution, annual operational planning processes, policies on user fees under devolution, staff recruitment and retention in counties, potential areas for legal challenges, and the capacity of counties to execute new functions that have been transferred to them.
In closing, Mr. Muchiri reminded forum participants that Kenya's devolution framework is complex in its magnitude, with several issues still unresolved. But he assured the audience that strong collaboration between the Ministry of Health and the Commission on the Implementation of the Constitution, the Transition Authority, the Commission on Revenue Allocation, and the National Treasury is facilitating navigation of initial challenges in the transition to devolved government responsibilities. He emphasized that there are tremendous opportunities for eliminating mother-to-child transmission of HIV when counties are empowered and the national government is responsive in providing the required policy direction.