The Health Policy Project has ended, but work continues under a new USAID five-year project, Health Policy Plus (HP+).
NEWS & VIEWS
Upping Our Game for Family Planning
Three years after the London Summit, experts cite progress and pitfalls
July 7, 2015
WASHINGTON, DC—When Monica Kerrigan, senior advisor to Family Planning 2020 (FP2020), opened a forum on global family planning (FP) convened by the USAID-funded Health Policy Project (HPP), she brought news of "tremendous progress" but also of the urgent need to "up our game." The forum, entitled "Commitment to Action: Enabling Fulfillment of Family Planning Goals," was held July 7 at HPP's headquarters, in Washington, DC.
FP2020 is a global partnership that works with governments, civil society, multilateral organizations, donors, the private sector, and the research and development community to enable 120 million more women and girls to use contraceptives by 2020.
Ms. Kerrigan told the global health experts in attendance that the 2012 London Summit on Family Planning, which gave birth to the FP2020 movement, "galvanized the global community to support the rights of women and girls to decide, freely and for themselves," whether and when they want to have children and how many, "without coercion or discrimination." FP2020's principle of country ownership is key to sustaining the movement's achievements long-term. The summit's three-year anniversary, on July 11, marks a number of milestones. Among those Ms. Kerrigan cited are the following:
For the first time in history, 274 million women and girls are using modern contraceptives
Of 69 of the world's poorest countries, 35 have made formal financial, policy, and program commitments to increase access and choice, and 19 have gone further, adopting strong costed implementation plans with measurable goals
"For the first time in the history of FP, we are tracking and publishing core indicators and we have new measurement tools . . . to help us monitor progress examining equity and quality"
"Rights and empowerment principles . . . have been developed and introduced" and are "dialing up the voices of civil society and women leaders to speak out on the importance of full information and the need for improved quality of care"
Donor governments, foundations, and others have jointly provided a record $1.3 billion for FP programs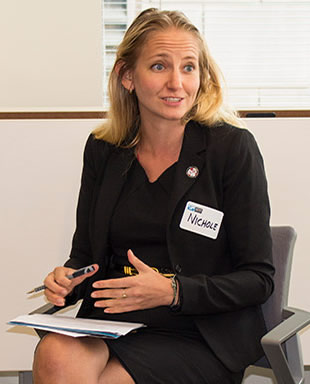 Costed implementation plans (CIPs) are a crucial tool for governments to fulfill their family planning commitments. In the mini-session on planning, Nichole Zlatunich, senior program advisor at HPP, explained how a CIP "articulates a country's FP priorities"—established in consultation with all stakeholders—"and thus becomes a social contract" for government, donors, and implementing partners.
Yet, despite these successes, "many interventions are still nascent—generation 1.0," Ms. Kerrigan said. Upping our game requires "more positive disruption" to "expand our reach, test our limits, and bring innovation to catalyze the transformational changes envisioned at the London Summit."
Concrete examples of country ownership, innovation, and positive disruption advocated by Ms. Kerrigan emerged in the forum's "mini-sessions" on the themes of accountability, advocacy, measurement, and planning. A highlight of these was the presentation of videos in which women leaders in low- and middle-income African countries discuss their achievements resulting from participation in HPP's "Empowering Women Leaders" program. Building on earlier work by Plan International USA, the program combines a three-week leadership and advocacy workshop with a year of one-on-one coaching by a Plan-trained coach in country, seed money for local advocacy activities, and ongoing technical assistance and networking support.
With 70 alumnae in six African countries, this activity is one answer to a concern voiced by an audience member to panelists in the panel discussion on "the way forward" that ended the forum: "It's taken three years since the London Summit to get the senior leaders of FP2020 focus group countries to support FP. These leaders won't always be in office. What are we doing to bring new leaders in line with FP advocacy goals?" Anne Jorgensen, senior technical advisor for leadership and capacity development at HPP, pointed out that the cadre of trained and practiced advocates gives FP a deep bench and they will make sure that support for family planning—and developing the next generation of family planning champions—continues. Already, she said, a graduate of the program who serves in the Malawi government has included money for women's leadership and advocacy capacity development in the country's costed implementation plan.
According to Jay Gribble, senior fellow and deputy director of family planning and reproductive health for HPP and the panel's moderator, "Achieving FP commitments means working with people to solve their own problems. Country ownership is key. Context matters. There are no simple answers, no cookie-cutter solutions."
Carmen Coles Tull, co-leader of Repositioning Family Planning, an initiative of USAID's Office of Population and Reproductive Health in sub-Saharan Africa, said she sees four challenges ahead: "We need to focus on 1) adapting the policy and advocacy models we've developed to work at the decentralized levels; 2) strengthening capacity in advocacy, especially among youth; 3) developing multisectoral approaches to build political commitment for family planning; and 4) mobilizing domestic resources for health and family planning."
Ms. Kerrigan mentioned several more hurdles: "We need a playbook to support decentralization that allows government and civil society to engage locally; we have to increase our outreach and engage more youth in shaping the FP agenda; we need to pay attention to new ideas coming from Africa and Asia; and above all, we need more investors in data analysis and use to foster the data revolution."
Undaunted by these difficulties, panelist Beth Fredrick, executive director of the Advance Family Planning initiative at the Bill & Melinda Gates Institute for Population and Reproductive Health, Johns Hopkins Bloomberg School of Public Health, said, "I can't imagine a more exciting time to be working on FP. Since the London Summit, we've tracked scores of important policy changes. There's much more sophistication about FP. The African leader who said, 'I'd rather invest in rural electrification than FP, because everybody knows what happens in the dark,' would never say that now."
Read more
Learn more about the Health Policy Project's work in Family Planning and Reproductive Health.
Costed implementation plans and other stewardship activities for FP2020