Drawing on the skills she acquired through Health Policy Project's (HPP's) Empowering Women Leaders for Country-Led Development program and the support of her coach, Ethel Chavula has made incredible strides, both personally and professionally. After returning home from the program's foundational, three-week, skills-building workshop in Nairobi, Ethel was paired with coach Agnes Kamanga.
The coaching is a unique and supportive add-on to the women's leadership training that paired each graduate with an experienced woman coach for a yearlong partnership. Agnes, like all trained Empowering Women Leaders coaches, has a background in family planning and reproductive health (FP/RH) and participated in a similar advocacy and leadership training (Agnes is an alumna of the Strengthening the Voices of Women Champions for FP/RH training, implemented in 2011 by CEDPA and funded by the Packard Foundation.) As Ethel's coach, Agnes helped Ethel to identify opportunities and challenges, set and achieve personal and professional goals, and develop her professional networks.
The Value of Mentorship
Under Agnes' mentorship, Ethel worked alongside fellow alumnae, Nini Brenda Sulamoyo and Velia Manyonga, to develop a proposal to build upon the FP advocacy work the women started under the Empowering Women Leaders' program. Submitting the proposal for Ethel's organization, Jesus Cares Ministries, the women beat out eight larger and better-resourced nongovernmental organizations to secure a US$60,000 grant from Population Action International (PAI) to track budget spending for FP commodity procurement in Malawi. The PAI team remarked how the women's proposal was distinct, with a clear focus on policy advocacy. Other alumnae from Malawi have also successfully leveraged their shared HPP grant experience to obtain larger advocacy grants from donors such as the Irish charity Trocaire and KfW Development Bank.
Now, working with members of Parliament and parliamentary committees to implement the project, Ethel attributes her newfound confidence and success to the Empowering Women Leaders program and Agnes' encouragement. Reflecting back on the workshop, Ethel commented, "When I came back from the women leadership training, I was so excited I was attached to a coach ... The coaching has really assisted me. I have improved my self-awareness skills ... developed some technical skills ... [and learned] how to double work and family."
Coaching: A Two-Way Street for Learning
The Empowering Women Leaders program had an impact on Agnes as well. Apart from advancing her own FP advocacy, the program has allowed Agnes to coach seven alumnae over the past four years. With the pride and wisdom of someone helping to shape future generations of women leaders, Agnes affirmed, "I have learned a lot, not only in coaching others, but in the process. I've learned a lot from my coachees."
Today, Ethel continues to advocate for FP/RH issues in Malawi while earning a degree in rural and community development. She has also expanded her professional circle, becoming a member of Equity in Health, the Community of Practitioners in Health Accountability and Sustainability, the Technical Working Group on Population and Development, and the Coalition for Gender and HIV and AIDS Advocacy in Malawi. Ethel also shared, "Through the leadership training I got from Nairobi, I have also been nominated to serve on the Board of Directors for Jesus Cares Ministries and am a member of the Advisory Council for Global Seeds, an organization working on food security in Malawi."
Agnes, inspired by her coaching experience, is now a lecturer at the Catholic University of Malawi and actively looking for further opportunities to continue her career as a coach. At a recent reunion of Empowering Women Leaders alumnae, Agnes shared, "My future plans are to become an expert coach."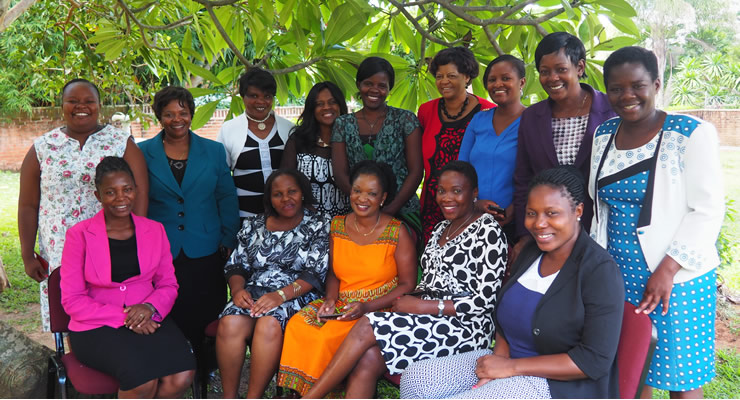 ---