The Health Policy Project has ended, but work continues under a new USAID five-year project, Health Policy Plus (HP+).
PUBLICATION
Approach for Addressing and Measuring Policy Development and Implementation in the Scale-Up of Family Planning and Maternal, Neonatal, and Child Health Programs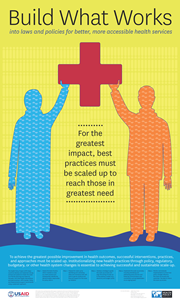 Author(s): Karen Hardee
Primary Language: English
Date: 1/8/2013
Abstract:
To achieve the greatest possible improvement in family planning (FP) and maternal, neonatal, and child health (MNCH) outcomes, successful interventions, practices, and approaches must be "scaled up," that is, implemented on a larger scale and incorporated into the laws, policies, and structures that govern health systems. In recent years, growing recognition of the importance of scale-up has led to intensified efforts to identify and scale up best practices in FP/MNCH and improve scale-up processes. Policy development and implementation are central to successful and sustainable scale-up.
This package of materials presents a programming approach designed to help countries advance the integration and measurement of policy development and implementation into the scale-up of FP/MNCH interventions and best practices. The approach provides planners and implementers with initial guidance and suggestions on how to systematically address policy development and implementation as they scale up FP/MNCH programs.