The Health Policy Project has ended, but work continues under a new USAID five-year project, Health Policy Plus (HP+).
PUBLICATION
How Can People Living with HIV and Key Populations Access Justice in Ghana?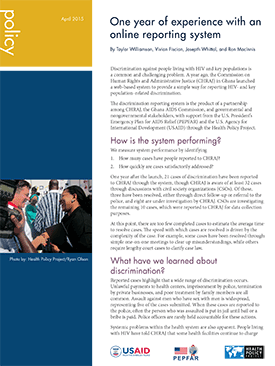 Author(s): Taylor Williamson, Vivian Fiscian, Joseph Whittal, and Ron MacInnis
Primary Language: English
Date: 4/2/2015
Abstract:
Discrimination against people living with HIV and key populations is a common and challenging problem. A year ago, the Commission on Human Rights and Administrative Justice (CHRAJ) in Ghana launched a web-based system to provide a simple way for reporting HIV- and key population–related discrimination with help from the USAID and PEPFAR-supported Health Policy Project (HPP). This brief describes the outcomes of the discrimination reporting system after one year and ways forward.
Click here to read a blog on HPP's work on the CHRAJ stigma and discrimination reporting portal.