The Health Policy Project has ended, but work continues under a new USAID five-year project, Health Policy Plus (HP+).
PUBLICATION
Designing an Effective HIV Discrimination Monitoring, Reporting, and Referral System: International Best Practices and Current Policy, Practice, and Opportunities in Ukraine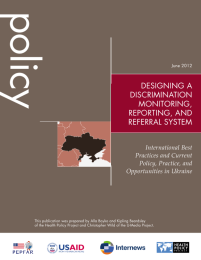 Author(s): Kip Beardsley
Primary Language: English
Date: 4/16/2012
Abstract:
Effectively capturing and reporting discrimination data can help an organization or government administration gauge the level of discrimination in a country and ensure effective responses. However, there is currently no standard design for a discrimination monitoring and reporting system. In this report, the Health Policy Project brings together known international best practices; research on relevant, existing legal codes and systems in Ukraine; and information from consultations with key stakeholders to determine priorities and approaches for monitoring discrimination. The project also documents a process for defining the scope and scale of a potential system, which both incorporates these best practices as well as considers local needs, resources, and policy environments. The report serves as the beginning of a conversation on monitoring, reporting, and resolving cases of discrimination for vulnerable populations.