The Health Policy Project has ended, but work continues under a new USAID five-year project, Health Policy Plus (HP+).
PUBLICATION
Investing in Women's Leadership for Family Planning and Reproductive Health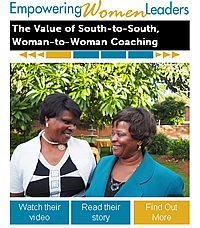 Author(s): Health Policy Project
Primary Language: English
Date: 7/7/2015
Abstract:
The Empowering Women Leaders for Country-Led Development program fostered yearly cadres of women champions from Ethiopia, Ghana, Kenya, Malawi, Tanzania, and Uganda to engage in family planning and reproductive health decision making and to advocate for policy change. The 70 alumnae are now using their expanding networks and newly acquired advocacy and leadership skills to advance family planning and reproductive health in their countries. Meet the women, hear their testimonies, and read their stories of change in this powerful, online series.