The Health Policy Project has ended, but work continues under a new USAID five-year project, Health Policy Plus (HP+).
PUBLICATION
Survey on Violence Against Children in Haiti: A Summary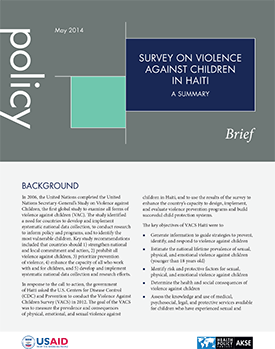 Author(s): Marjorie K. Bertrand, Mike Park
Primary Language: English
Date: 5/31/2014
Abstract:
In 2012, the Government of Haiti worked in collaboration with the U.S. Centers for Disease Control (CDC) and Prevention to conduct the Violence Against Children Survey (VACS). The objective of the study was to measure the prevalence and consequences of physical, emotional, and sexual violence against children. The results would inform the design, implementation, and evaluation of a violence prevention program for children, and the building of systems for child protection. The USAID-funded HPP AKSE developed this brief to provide context and information to guide the Government of Haiti's strategies to respond VACS survey results and identify ways to strengthen child protection.