The Health Policy Project has ended, but work continues under a new USAID five-year project, Health Policy Plus (HP+).
PUBLICATION
Capacity Development Resource Guides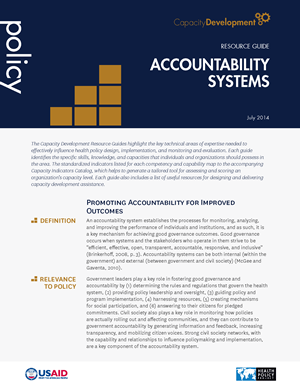 Author(s): Health Policy Project
Primary Language: English
Date: 7/31/2014
Abstract:
This series of Capacity Development Resource Guides was produced by the Health Policy Project as part of an Organizational Capacity Assessment (OCA) Suite of Tools. The guides highlight the key technical areas of expertise needed to effectively influence health policy design, implementation, and monitoring and evaluation. Each guide identifies the specific skills, knowledge, and capacities that individuals and organizations should possess in the technical area. The guides also include individual and organization capacity indicators mapped to HPP's Capacity Indicators Catalog, which can be used for facilitated organizational capacity assessments in the areas of policy, advocacy, governance, and finance. In addition, they provide illustrative activities and useful resources for designing and delivering capacity development technical assistance.