The Health Policy Project has ended, but work continues under a new USAID five-year project, Health Policy Plus (HP+).
NEWS & VIEWS
"To Break the Wall": HPP's Evidence-Informed Models Make the Case for Family Planning
Posted March 26, 2015
Models demonstrating the impact of demographic and health changes on policy goals transform national debates about health funding in developing countries, according to experts gathered by the USAID-funded Health Policy Project (HPP). Speaking at HPP's DC office on March 24 to representatives of international development agencies, research organizations, and other partners, the group explained how HPP 's policy models—informed by country-specific data and aligned with national goals—allow advocates to show how voluntary family planning saves lives and money. With this information, policymakers can see which specific interventions will be most beneficial.
According to Beverly Johnston, chief of the Policy, Evaluation, and Communication Division in USAID's Office of Population and Reproductive Health, HPP's models "are designed to be adaptable to every context in which they are applied, including—increasingly—at the subnational level, and to use local data." She said, "Models can be critical tools in family planning advocacy, because they give policymakers a clear picture of the links between family planning and health and also other development sectors, such as education and agriculture."
Scott Moreland, senior fellow at Futures Group, described HPP's strong foundation of policy modeling, which dates to the 1970s, with the work of pioneering Futures Group researchers on RAPID ("Resources for the Awareness of Population Impacts on Development"). Building on this foundation over the past five years, Dr. Moreland said, HPP, with the help of partner organizations such as Avenir Health and Futures Group, has developed a suite of software models—among them, ImpactNow, DemDiv, and RAPIDWomen.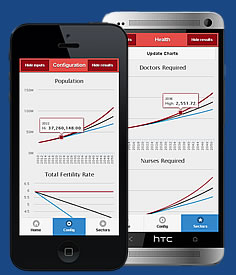 A free mobile phone app for the RAPID model will be available in April in online stores for Android and Apple devices.
These models demonstrate the impact of demographic, family planning, and reproductive health changes on health, economic development, and women's empowerment. DemDiv, for example, models the multisectoral strategies that can help countries gain the economic benefit—or "demographic dividend"—that a society enjoys when fertility and mortality rates decline rapidly and the ratio of working-age adults to young dependents significantly increases.
Three visiting development leaders offered firsthand accounts of the difference these models have made in Africa. Modibo Maiga, HPP's regional director for West Africa, Olive Mtema, HPP's country director for Malawi, and (on video) Jotham Musinguzi, MD, regional director of the Africa Regional Office of Partners in Population and Development (PPD ARO), an HPP implementing partner, described advocates' successes in applying HPP models to overcome opposition and build political commitment for voluntary family planning. Such efforts to increase support for family planning among policymakers outside the health sector can make a powerful difference as countries in sub-Saharan Africa adjust to decreasing international aid and rely on more of their own resources to make the transition to middle-income status.
Describing these efforts in West Africa, Mr. Maiga said, "There are many barriers to family planning"—for example, laws, lack of knowledge, gender discrimination, and cost. Models help us achieve our goal, he said: "to break the wall."
Watch a related GoToWebinar recording on Family Planning Advocacy- The Power of Quick Wins. (An accessible version of this presentation is being compiled for our YouTube channel. Please check back.)