The Health Policy Project has ended, but work continues under a new USAID five-year project, Health Policy Plus (HP+).
NEWS & VIEWS
Fees for Maternity Services Abolished to Reduce Maternal Deaths
Posted: June 1, 2013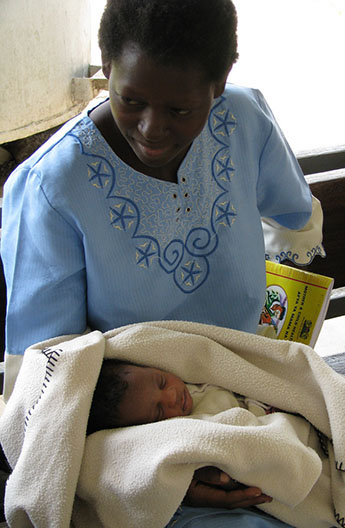 NAIROBI, Kenya—In an effort to improve health equity and lower rates of maternal mortality, the Kenyan government has announced it will no longer charge fees for maternal deliveries and other maternal services at public health facilities.
Although more than 90 percent of Kenyan women receive antenatal care from a medical professional, only 43 percent of births take place in a health facility, according to the 2008-2009 Kenya Demographic Health Survey. The prevalence of home births is largely responsible for the country's high maternal mortality rate—448 deaths per 100,000 live births in 2008—which has been rising in recent years.
"This move by President Uhuru Kenyatta will improve maternal health, as most mothers will now deliver under skilled care," said Dr. Francis Kimani, Kenya's Director of Medical Services. "It will also lead to a reduction in birth-related complications such as haemorrhage and obstructed labour."
User fees at public health facilities were introduced in the late 1980s during a period of national structural adjustment to supplement government health allocations, which at the time no longer covered the full cost of many services. However, lower-income citizens, especially in rural areas, could not afford to pay these fees for medical care, leading to poor health outcomes for women in particular.
The new policy on health fees stems from the campaign platform of President Kenyatta's Jubilee Coalition, whose manifesto pledged to abolish user charges at public health centers and dispensaries and provide free maternal deliveries to promote greater health equity.
The Health Policy Project (HPP) is providing technical support to implement the policy and develop cost estimates. These efforts began with a concept note and a Cabinet paper, which informed the government's decision to allocate KShs 4 billion for the 2013-2014 fiscal year to compensate public health facilities for revenue lost due to the change.
To assess compliance, HPP will develop robust monitoring and evaluation (M&E) mechanisms, including a baseline assessment and semi-annual evaluation. HPP will also work with other partners to develop capacity among Ministry of Health staff to continue M&E activities into the future.