The Health Policy Project has ended, but work continues under a new USAID five-year project, Health Policy Plus (HP+).
NEWS & VIEWS
HPP Holds Webinar on Geographic Approaches to HIV Programming
August 3, 2015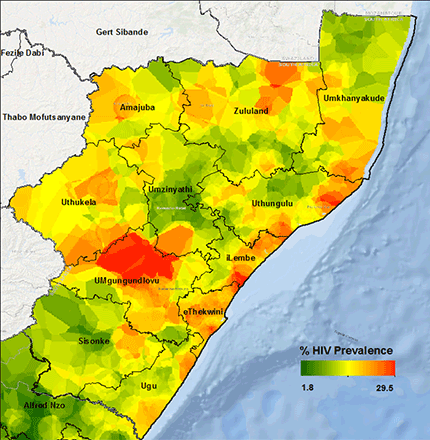 Estimated HIV Prevalence in Kwa Zulu-Natal, South Africa, 2014
The USAID and PEPFAR-funded Health Policy Project (HPP) organized a webinar on July 29, entitled Taking a Geographic Approach to HIV Programming: Lessons Learned in Implementation and Navigating the Way Forward.
The interactive session brought together panelists from the US Agency for International Development (USAID), the Office of the Global AIDS Coordinator (OGAC), the Global Fund to Fight HIV/AIDS, Tuberculosis, and Malaria (the Global Fund), and the South Africa National AIDS Council (SANAC). Ove sixty callers joined from around the world, representing US government missions, the Centers for Disease Control and Prevention (CDC), National AIDS Control Programs, and development and implementing partners. The discussion focused on lessons learned in geographic targeting and prioritization. Panelists discussed the role that geography plays in informing HIV planning and programming; the challenges that donors, development partners, and countries still face; and the capacity building needs and other strategic investments to ensure country-owned and led approaches.
Our panelists included Kristen Wares of USAID's Office of HIV/AIDS; Nate Heard, from OGAC, Jinkou (Button) Zhao, of the Global Fund, and Fareed Abdullah, Chief Executive Officer of SANAC.
To listen to the webinar and view the slide deck visit:
https://attendee.gotowebinar.com/recording/7954297392551838721