The Health Policy Project has ended, but work continues under a new USAID five-year project, Health Policy Plus (HP+).
NEWS & VIEWS
Technical Update Training for Decision-Makers in Health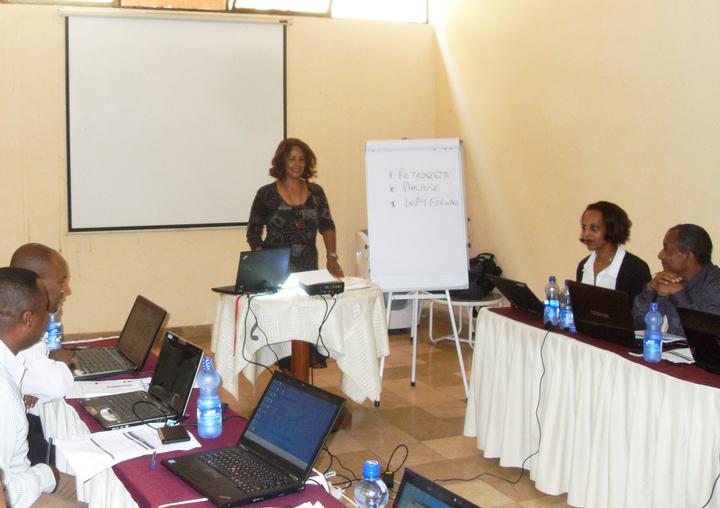 A presenter conducts a technical update training on modeling tools for health and development in Addis Ababa.
ADDIS ABABA, Ethiopia--In collaboration with the Ethiopian Public Health Association (EPHA), the Health Policy Project (HPP) in Ethiopia conducted a technical update training on reproductive health and family planning modeling tools March 25-29th, 2013.
The technical update aimed to provide a refresher training to potential master trainers who had participated in an earlier training on use of the tools in August 2012. Thirteen senior experts from the Ministry of Finance and Economic Development's Population Affairs Directorate participated, along with lecturers from Addis Ababa and Gondar University's Population Studies and Reproductive Health Department, project coordinators and program officers from EPHA, and staff from the Population Health and Environment Consortium. A representative from the Federal Ministry of Health's Resource Mobilization Directorate also attended.
The four-day training covered Spectrum Suite tools including DemProj, RAPID, FamPlan and GAP tools. Participants developed action plans to ensure application of the tools by institutions that could benefit from their use. Such models serve as important tools for decision-makers in various sectors to understand the magnitude of health challenges, explore policy and resource options, and set priorities as they work to improve public health and development in Ethiopia.