The Health Policy Project has ended, but work continues under a new USAID five-year project, Health Policy Plus (HP+).
NEWS & VIEWS
First Lady of Tanzania Urges Women to Use Family Planning without Fear
Mama Kikwete promotes RAPIDWomen advocacy tool as cornerstone of new campaign focused on improving health of women and girls
Posted August 31, 2012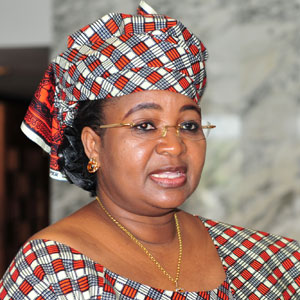 Photo: Tanzanian First Lady Mama Salma Kikwete encourages women to use family planning at the launch of a new national campaign to improve the health of women and girls. Photo by Humphleah's International Limited
DAR ES SALAAM, Tanzania—For the first time ever, Tanzanian First Lady Mama Salma Kikwete openly encouraged women to use family planning at the launch of a new national campaign to improve the health of women and girls. The leader's proclamation came in support of the country's overall goal to reduce maternal and infant deaths during childbirth, which can be worsened by key risk factors, such as early or unintended pregnancy.
More than 250 people attended the event, including ministers, parliamentarians, prominent women leaders including former first ladies, non-governmental organizations, development partners, ambassadors, and media representatives. In her keynote address, Mama Kikwete said, "Women have been advised to use health services, particularly family planning methods, to reduce maternal and child deaths because research findings show that women do not use family planning because they fear being divorced or beaten by their spouses. They should not fear."
Deputy Minister for Justice and Constitutional Affairs Angela Kairuki, who was also at the meeting, complimented Mama Kikwete's statement by assuring women of Tanzania that her Ministry will take action against violence affecting women.
Research studies indicate that maternal deaths in Tanzania can be reduced by up to 20 percent by expanding women's access to family planning. However, only 28 percent of married women use any method of family planning. Many women do not have access to these services, particularly those living in rural areas. Women who have access do not always seek these services, some out of fear of being punished by their husbands.
At the launch, Mama Kikwete presented the RAPIDWomen tool as a primary method to raise awareness and advocate for boosting the commitment to invest in women-centered development programs, including family planning, in Tanzania. The RAPIDWomen tool is a simple, interactive computer model that illustrates how investments in education and family planning services increase the quality of life for women and girls. Developed by the Futures Group with support from the U.S. Agency for International Development (USAID) and the David and Lucile Packard Foundation, it can be used by women leaders to advocate for policies and programs that support women's health.
"This model has a strategy that focuses on improving education for girls, gender parity, and family planning so that women and girls can achieve national goals for maternal mortality reduction as well as the deaths of children below five years of age," said Mama Kikwete, who also chairs Wanawake na Maendeleo (WAMA)—a foundation focused on promoting women's and girls' health and empowerment.
With the combined support from the First Lady and high-level officials, WAMA will disseminate the RAPIDWomen materials to governmental and non-governmental health and welfare organizations throughout the country.

Read more about the RAPIDWomen model

RAPIDWomen Tanzania Materials
RAPIDWomen Tanzania: PowerPoint Presentation
RAPIDWomenTanzania: Brief - Promoting Women's Health
RAPIDWomen Tanzania: Brief - Prioritising Girls' Education
RAPIDWomen Tanzania: Brief - Enabling Women and Girls to Advance
RAPIDWomen Tanzania: Brief - Empowering Women and Girls