The Health Policy Project has ended, but work continues under a new USAID five-year project, Health Policy Plus (HP+).
NEWS & VIEWS
Dr. Suneeta Sharma Appointed HPP Project Director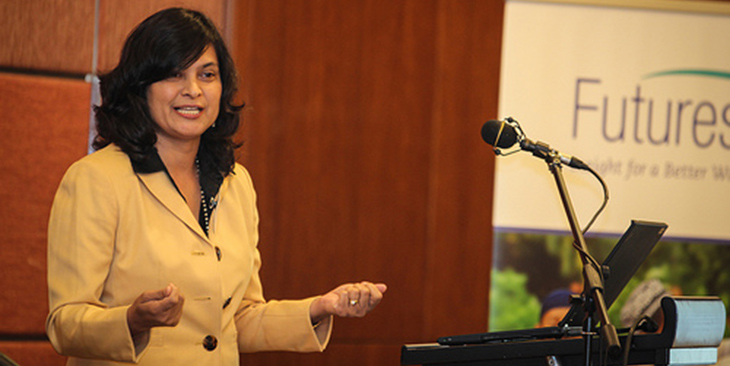 Dr. Sharma speaking at the GRM Futures Group Maternal and Child Health Panel Discussion in Jakarta, Indonesia.
January 8, 2014
WASHINGTON, DC -- The United States Agency for International Development (USAID)-funded Health Policy Project is pleased to announce Suneeta Sharma, PhD, as its new project director. Dr. Sharma brings more than 20 years of experience in health policy, financing, and equity. She has worked in both academia and global health programming, focusing on policy and evidence-based solutions to health systems challenges at the country level.

"It is an honor to work on this flagship project. I'm passionate about policy work and look forward to working with the excellent global, regional, and country-level teams to take this project to new heights," said Dr. Sharma, who has led and managed several USAID-funded projects. "Policy has an important role to play in shaping equitable and sustainable programs that reach those most in need, especially vulnerable populations."

Since 1999, Dr. Sharma has worked for Futures Group in several different capacities including senior health economist, deputy director for family planning and reproductive health, and most recently, as managing director for Futures Group India. She has designed and implemented policy and financing approaches to address access barriers among the urban and rural poor in India, Kenya, and Peru. Dr. Sharma also brings expertise from serving on successive policy projects, the Health Policy Initiative and POLICY II, both predecessors to the current Health Policy Project.

"I am thrilled to turn over the project to Dr. Sharma; she is a natural fit---she is well known, widely respected, and will provide fresh perspective based on her recent experience directing the India office of Futures," said Dr. Sarah Clark, Futures Group Vice President and Director, Center for Policy and Advocacy. Dr. Clark has stepped down from the role of project director, but will continue to provide support in her role as Vice President.

Dr. Sharma holds a PhD in Economic Administration and Financial Management from the University of Rajasthan and a Master's degree in Healthcare Administration from the University of North Carolina at Chapel Hill. She joins the project's leadership team of Ron MacInnis, deputy director for HIV; Jay Gribble, deputy director for family planning and reproductive health; and Nancy Yinger, deputy director for cross-cutting issues.