The Health Policy Project has ended, but work continues under a new USAID five-year project, Health Policy Plus (HP+).
NEWS & VIEWS
Nigeria Family Planning Conference 2012
Improving access to family planning services deemed important for national development
Posted December 10, 2012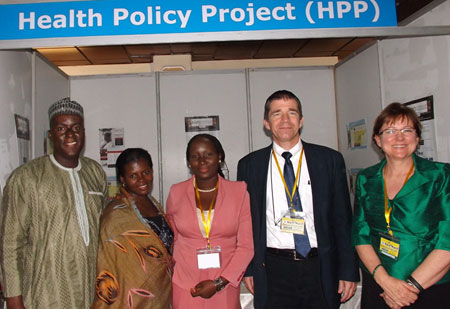 Health Policy Project staff at the conference, from left to right: Aliyu Aminu Ahmed, Amaka Osuala, Antonia Osubor, Don Dickerson, and Karen Hardee.
ABUJA, Nigeria—On November 27-December 1, 2012, the 2nd National Family Planning Conference was held in Abuja, Nigeria. More than 600 participants from all of Nigeria's states participated in the conference, which was centered on the relationship between population and national development, and underscored the importance of improving access to family planning information and services nationwide. Many discussions also focused on meeting the Millennium Development Goals and following through on Nigeria's commitment to achieving milestones outlined at the 2012 London Summit on Family Planning.
The Health Policy Project (HPP) was actively involved in planning and supporting the conference, alongside international donors and other family planning organizations working in Nigeria. HPP also made several presentations during the meeting, including a key session on the RAPID Nigeria model. RAPID, which stands for Resources for the Awareness of Population Impacts on Development, is a computer model that projects the social and economic consequences of rapid population growth for such sectors as labor, education, health, urbanization, and agriculture. The presentation in Abuja used projections from the RAPID software tool to highlight the impact of Nigeria's population growth on development, including its ability to provide education, health, and nutrition to citizens.
For more information about the 2nd National Family Planning Conference in Nigeria, please visit the conference website.

HPP Presentations
Nigeria RAPID Population and Development: How Fertility Affects Development
This presentation uses RAPID projections to highlight the impact of Nigeria's population growth on national development and its ability to provide education, health, and nutrition to all its citizens. Includes downloadable brief, presentation, and poster.
Demographic Dividend: A Window of Opportunity for the Next Generation
The demographic dividend is an important opportunity for economic development that arises through population change. As fertility rates fall and the share of working-age adults rises, the dividend can boost economic growth and productivity, raising incomes and allowing families and governments to invest more in the health, education, and well-being of future generations.

Learn more about Health Policy Project activities in Nigeria