The Health Policy Project has ended, but work continues under a new USAID five-year project, Health Policy Plus (HP+).
NEWS & VIEWS
The Lancet Profiles PPD ARO Leader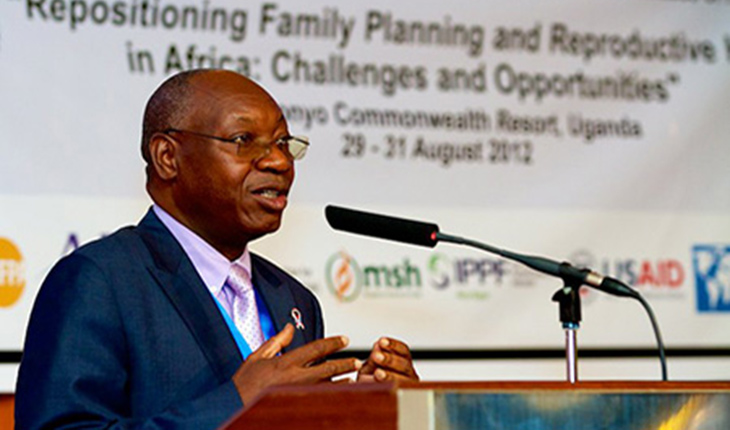 Dr. Jotham Musinguzi at an August, 2012 SEAPACOH Meeting held at the Speke Munyonyo Commonwealth Resort, Uganda.
Posted 1/22/2014
LONDON, England —The January 4, 2014 issue of The Lancet features a profile of USAID-funded Health Policy Project (HPP) partner, Dr. Jotham Musinguzi. Dr. Musinguzi is the regional director of Partners in Population and Development Africa Regional Office (PPD ARO), which works to strengthen political support for family planning in Africa. Through HPP, PPD ARO provides technical assistance for advocacy targeting parliamentarians and other stakeholders in four countries (Ethiopia, Ghana, Malawi, and Uganda).
"The Lancet profile reflects the high esteem in which Dr. Musinguzi is held by many of us in the global health community," says Suneeta Sharma, PhD, project director of the Health Policy Project. "He is an important leader who understands the critical role of building political will to invest in improving women's health."
In 2012 and 2013, PPD ARO, with support from HPP and technical assistance from the Advance Family Planning Project, convened two-day advocacy capacity building workshops for women parliamentarians (MPs) from the four focus countries. Advocacy skills developed at these workshops have been used by the parliamentarians to facilitate commitment by the government of Malawi and regional and federal authorities in Ethiopia to create and increase budget line items for family planning and reproductive health, important steps towards greater sustainability of services.
Dr. Musinguzi was born in Uganda, where he trained in obstetrics and gynecology. As a young doctor, shocked at the poor condition of reproductive and maternal care – and the number of preventable deaths related to pregnancy and childbirth – he dedicated his life and career to improving services for women. After completing his master's in public health in the United States in the early 1990s, Dr. Musinguzi returned to Uganda and earned a reputation for being an international reproductive health and family planning advocate. He was chosen to represent Uganda at the 1994 International Conference on Population and Development, and led the Population Secretariat of Uganda through 2007, when he took on his current leadership role at PPD ARO.
Working with leaders like Dr. Musinguzi, who are committed to "giving back" to their communities, HPP and PPD ARO will continue to advocate for family planning and reproductive health services for those in need.
Read the Lancet article on Dr. Musinguzi here: http://www.thelancet.com/journals/lancet/article/PIIS0140-6736(13)62721-X/fulltext?rss%3Dyes
Read more about HPP's work with PPD ARO here: http://www.healthpolicyproject.com/index.cfm?id=MalawiFPCommodities