The Health Policy Project has ended, but work continues under a new USAID five-year project, Health Policy Plus (HP+).
NEWS & VIEWS
Moving Toward a "Grand Convergence" in the Health of Poor and Rich Countries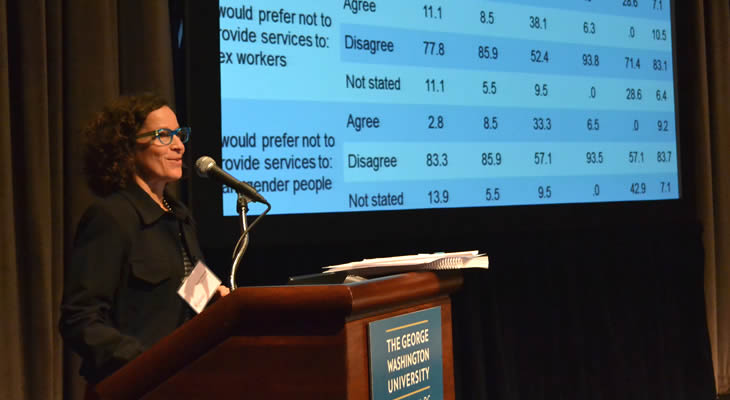 Global Health Mini-University's Sessions Point the Way
Posted March 6, 2015
WASHINGTON, DC—In a 1947 musical by Alan Jay Lerner, a Scottish village—Brigadoon—comes to life once every hundred years, for just one day. Like Brigadoon, the Global Health Mini-University also comes and goes in a day, but fortunately, its recurrence is annual, not centennial. Since 2002, the Mini-University has brought professionals and students in the field of global health to Washington, DC, to hear from experts reporting the latest findings on best practices. This year's event, on March 2, was sponsored by the U.S. Agency for International Development (USAID), the George Washington University Milken Institute School of Public Health, and the Global Health Professional and Organizational Development Program.
Eleven hundred people registered for the Mini-University this year. For the first time, close-captioned live streaming allowed people worldwide to participate, too. Check back here in mid-March for close-captioned videos of the opening and closing sessions plus several of the technical sessions.
Challenging voices from USAID framed the sessions. The day began with Ariel Pablos-Méndez, MD, the agency's assistant administrator for global health, who outlined the "dramatic results in global health since 1990" and said they created an opportunity for a "grand convergence" in the health of poor and rich countries, raising life expectancy worldwide "within a generation." Dr. Pablos-Méndez said, "We all have lots to do in the next 10 years to ensure the poor aren't left behind." The forum ended with Wendy Taylor, director of USAID's Center for Accelerating Innovation and Impact, describing how the agency's call last September for innovations to improve Ebola care marked a new, faster, and more flexible approach to sourcing innovations and building partnerships at USAID.
As in years past, researchers from the USAID- and PEPFAR-funded Health Policy Project (HPP)—18 this year—were prominent among the presenters. They offered eight of the Mini-University's 63 sessions in four of its seven technical tracks: HIV and AIDS, family planning and reproductive health, health systems, and nutrition.
HPP offered one of the sessions chosen for live streaming, on mapping and geospatial analysis to identify hotspots of the HIV epidemic. Another HPP session covered a mapping project in Haiti to collect data on gaps in child protection and gender-based violence services, as a step toward improving access to these services and capacity to provide them.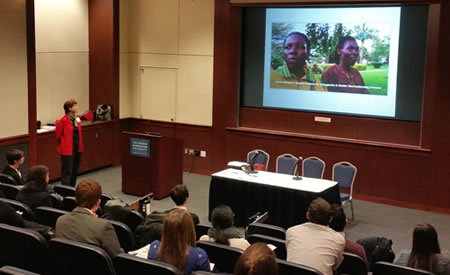 Ann Hendrix-Jenkins presenting on PEPFAR Gender and Sexual Diversity Trainings
Other HPP presenters at the Mini-University described their work from different approaches to promote an enabling environment for the delivery of HIV services. One session covered the use of data-driven tools to tackle stigma and discrimination against populations key to the HIV epidemic—men who have sex with men, sex workers, and transgender people—in order to improve their access to prevention, care, and treatment. Another discussed the PEPFAR Gender and Sexual Diversity Trainings, which HPP developed to broaden policy-level support for improved health equity and outcomes, and showed a video of two transgender men explaining why their country—Uganda—needs this help.
Male circumcision significantly reduces the spread of HIV, but knowing where programs will be most cost-effective has been harder to determine. A new data-based tool shows policymakers where to target their investments, according to an HPP presenter who helped to develop it.
An HPP session on holding governments financially accountable for their political commitments to family planning and reproductive health offered the seemingly simple strategy of a line item in a country's health budget as one way to accomplish this, and what happened when it was done in Malawi.
Nutrition was a new technical track at this year's Mini-University, and two HPP researchers discussed how family planning not only can improve nutrition at the household level but also the food security of a population.
These and other sessions gave the attendees a panoramic view of innovations in global health that, over the next 20 years, could make Dr. Pablos-Méndez's vision of a much healthier world a reality.