The Health Policy Project has ended, but work continues under a new USAID five-year project, Health Policy Plus (HP+).
NEWS & VIEWS
Summary of the midwifery congress
JULY 5, 2011
Posted by Rima Jolivet, HPP Technical Director-Maternal Health
Midwives are the linchpins of an effective maternal health system for women in countries with high rates of maternal and infant mortality. Data from the State of the World's Midwifery report, released by the UNFPA this year at the 29th Triennial Congress of the International Confederation of Midwives (ICM), suggest that if all pregnant women had access to antenatal care and well-equipped basic emergency obstetric and newborn care facilities managed by competent midwives, 61% of all maternal deaths, 49% of all fetal deaths or stillbirths, and 60% of all newborn deaths could be averted in countries with a high burden of maternal and newborn mortality.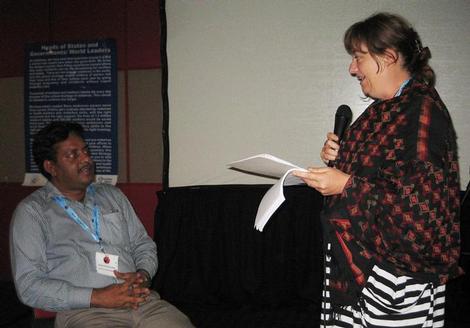 Workshop participant role plays delivering the advocacy messages formulated by her group to a decisionmaker. Photo courtesy of WRA.

Too often, professional issues faced by midwives, including low status and poor working conditions in low-resource settings, are significant barriers to the provision and coordination of high-quality maternity care and adversely affect acceptance and utilization of skilled care. Key challenges include midwives' lack of recognition by other healthcare providers; poor status within the health system structure; inadequate staffing and excessive workload; poor and often inconsistent remuneration; insufficient supplies and equipment; inadequate facilities; and other related issues.

The Health Policy Project (HPP) is working through its maternal health partner, the White Ribbon Alliance for Safe Motherhood (WRA), to develop country-led advocacy campaigns with unified messages and approaches to help raise many voices in support of midwives and their high value in maternal and newborn systems.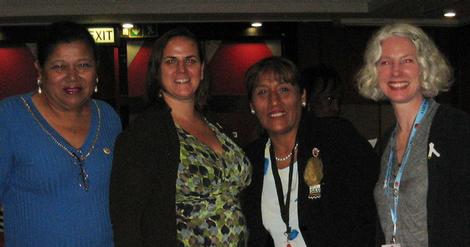 Enthusiastic midwifery advocates at the WRA Advocacy Workshop. Left to right: Elva Rose Quiñones Colchado, Betsy McCallon, Carmen Gamarra, and Rima Jolivet. Photo courtesy of WRA.
At the ICM Triennial Congress, held in Durban, South Africa, June 19-23, 2011, WRA organized a workshop to provide focused support and training for midwives to build their capacity to design effective advocacy strategies. The workshop helped midwives identify effective messages and approaches, and build the skills to develop advocacy campaigns aimed at elevating the status, increasing the utilization, and improving the working conditions of midwives in their national maternal health systems, using a variety of advocacy tools including storytelling and filmmaking.

WRA also launched "Stories of Midwives" at the ICM congress, kicking off the release event for the State of the World's Midwifery report. "Stories of Midwives" is a film compiled from footage collected through participatory filmmaking by WRA members and partners around the world. WRA disseminated DVDs to midwives to take home and use as an advocacy tool to improve perceptions and increase understanding of the issues faced by midwives among women, communities, and civil society, and to call upon policymakers to enact measures aimed at elevating their status and working conditions.