The Health Policy Project has ended, but work continues under a new USAID five-year project, Health Policy Plus (HP+).
NEWS & VIEWS
Kenya Household Health Expenditure and Utilization Survey
Posted July 10, 2013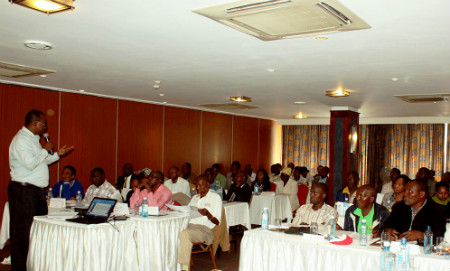 In one of eight trainings held nationwide, the Ministry of Health and the Health Policy Project trained 50 data collectors and supervisors in July to conduct the 2013 household health survey, also being implemented with the Kenya National Bureau of Statistics.

Photo by Health Policy Project

NAIROBI, Kenya—In 2003 and 2007, Kenya conducted the Household Health Expenditure and Utilization Survey (HHEUS), which provided the national government with crucial information for the development of healthcare policy. The results of these surveys helped create the Fee Reduction Policy (the "10/20" policy on user fees at health centers and at the dispensary level) and the National Social Health Insurance (NSHI) Bill of 2004 (although later vetoed by the president). Most importantly, the two surveys provided national and provincial-level estimates of healthcare-seeking behavior, including out-of-pocket payments by people seeking services.
Under the 2010 constitution, health service delivery was decentralized from the national government to the 47 county governments, requiring the collection of county-level data. The 2013 HHEUS will be the first survey in Kenya to provide data disaggregated at this level.
The 2013 survey is being conducted by the Ministry of Health (MoH) and the Kenya National Bureau of Statistics (KNBS), with the U.S. Agency for International Development (USAID) providing technical and financial support through the Health Policy Project (HPP). The 2013 survey will be a household-based sample survey of approximately 33,675 households. It will generate national and county-level estimates on households' healthcare-seeking behaviors, utilization of different modes of healthcare delivery, and out-of-pocket costs related to healthcare. The 2013 HHEUS officially began in July with the training of 332 data collectors and 88 supervisors in eight regional training centers.
The overarching goal of the survey is to obtain information on household healthcare utilization and expenditures in Kenya. The primary objectives are to:
a) Document healthcare-seeking behavior and assess how behavior varies with demographic characteristics;
b) Collect detailed information on healthcare service utilization;
c) Gain insight into the health expenditures made by the household members when they consult healthcare providers and analyze how expenditures vary with socioeconomic and demographic characteristics and type of health care sought; and
d) Investigate household use of outpatient and inpatient healthcare services by provider type.
Results from the survey are expected to be ready in September 2013. These results will inform planning and budgeting at the county and national levels and inform the 2012/13 National Health Accounts (NHA).
Download the HHEUS survey manual (PDF)