The Health Policy Project has ended, but work continues under a new USAID five-year project, Health Policy Plus (HP+).
NEWS & VIEWS
Kenya Adopts New Cost-Effective Algorithms to Expand HIV Testing Coverage
Posted October 15, 2013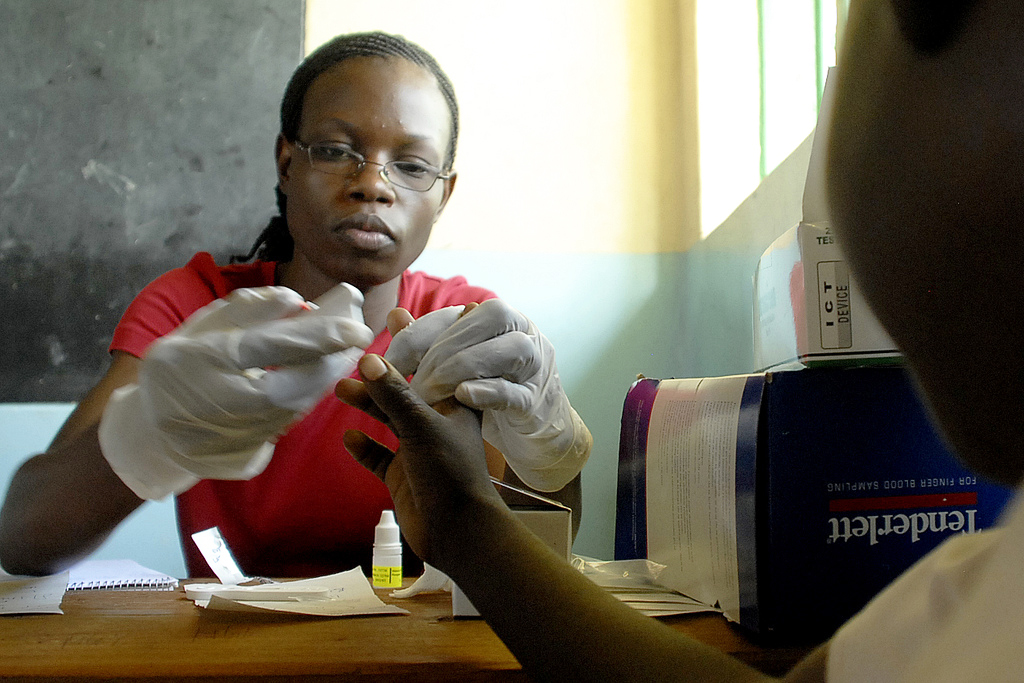 A researcher in Kisumu, Kenya. Photo by US Army Images, 2010.
NAIROBI, Kenya—HIV testing and counseling (HTC) services have long been a keystone of HIV programming worldwide, enabling individuals to learn their HIV status, seek treatment and care if needed, and develop a personal prevention program. These goals support the broader public health objective of lowering the rate of HIV transmission. HTC is a critical element of Kenya's HIV/AIDS response and is integrated into all HIV interventions.
In 2008, Kenya established its National Roadmap to Achieve Universal Access to operationalize an ambitious national goal for HTC: 80 percent coverage of the adult population aged 15 to 64 by June 2011. However, at the time coverage in Kenya was only 53.6 percent, and 82 percent of HIV-positive individuals did not know their HIV status. To increase testing coverage, it was necessary to determine how to use resources more efficiently and cost-effectively to achieve national HTC goals while maintaining high service quality.
With the goal of identifying ways to implement cost-effective HTC scale-up, the Ministry of Health (MOH)—with support from the Health Policy Project (HPP), funded by the U.S. Agency for International Development—undertook costing, cost-effectiveness, and efficiency studies. The process included a thorough analysis of the cost-effectiveness of algorithms used in the testing process. (Algorithms, used widely in health planning and in medical care itself, are formulas that set out a sequence of steps to follow to achieve a specific outcome—in this case, an accurate HIV test result.)
Given the need to increase HIV testing accuracy, until recently blood samples in Kenya had been "parallel tested" using two different types of HIV test simultaneously; if the two sets of results conflicted, a third type of test was used as a "tie breaker." For greater cost-effectiveness, new test guidelines recommend serial rather than parallel testing, where samples undergo a second "confirmatory" test only if the first test is positive, with a tie breaker used if the first two results conflict.
To determine the most cost-effective testing approach, MOH and HPP staff joined a team of researchers and policymakers to analyze the costs of three different serial testing algorithms selected by a group of scientists and physicians. Each of the three algorithms uses a different combination or sequence of three HIV tests. Calculations included the procurement costs for the different types of rapid test kits, for training for 100 trainers (who will each go on to train 300 healthcare workers), and for new tools and registers. To determine the number of tests needed to achieve the 80 percent coverage goal, Kenya's National AIDS & STI Control Programme staff estimated that, of 10 million tests purchased, 10 percent would be positive and thus require confirmatory second tests, with 1 percent of those leading to discordant results and a third tie-breaker test.
A comparison of the three options showed that two of the proposed serial testing algorithms yielded approximately 15.30 and 15.34 percent cost savings, respectively, while the third represented a cost increase of more than 1 percent over the parallel testing algorithm. These results, along with considerations for ease of use, test sensitivity, and potential for scale-up, helped the MOH determine the most efficient and cost-effective HIV testing algorithm to adopt.
"The analysis has enabled the Ministry of Health to switch in February 2013 to a more cost-effective testing algorithm, and the resultant savings will be used to scale up HIV/AIDS testing and counseling," said Dr. Shahnaz Sharif, Director of Public Health and Sanitation at the MOH.
According to the Kenya AIDS Indicator Survey 2012, Kenya has increased HIV test coverage by nearly 20 percent to about 72 percent of the target population. As implementation of the new algorithms and procurement of the new tests increase, achieving or perhaps even surpassing the national goal of 80 percent comes closer to realization.