The Health Policy Project has ended, but work continues under a new USAID five-year project, Health Policy Plus (HP+).
NEWS & VIEWS
HPP at IUSSP
Posted August 29, 2013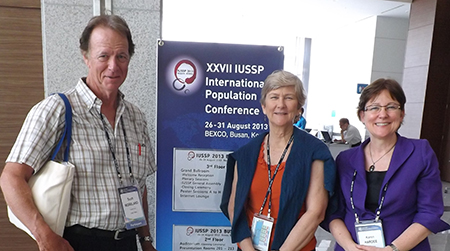 Futures Group staff presenting at the IUSSP Conference include (from left) Scott Moreland, principal investigator for the MEASURE Evaluation Project, Elizabeth McDavid, and Karen Hardee, Health Policy Project (HPP).
BUSAN, South Korea—From August 26 through August 31st 2013 nearly 2,500 health researchers and practitioners from around the globe convened at the XXVII International Union for the Scientific Study of Population (IUSSP) International Population Conference in Busan, Korea. Among those in attendance were Scott Moreland (MEASURE Evaluation project), Karen Hardee (HPP) and Elizabeth McDavid (Futures Group/GRM) who were representing Futures Group's work at the conference. Staff participated in three different sessions where they presented on the range and depth of Futures Group's population-based work.
Dr. Hardee gave two conference presentations as part of two distinct conference sessions. The first presentation, "Achieving the London Family Planning Summit Goal through Voluntary, Rights-based Family Planning: What Can We Learn from Past Experiences with Coercion?" was included as part of a session on critical support for improving access to reproductive health services. The paper examines instances of coercion in family planning to understand the context, the type of coercion, how it was uncovered, and how it was addressed. Using these examples, the paper offers recommendations for policy and programmatic steps to ensure voluntarism in family planning and adherence to a rights-based approach as countries scale up programs to reach the ambitious goal of FP2020. HPP Research Associate Mariela Rodriguez was a co-author on the paper, in addition to Shannon M. Harris (Bill & Melinda Gates Foundation), Jan Kumar (EngenderHealth), Lynn Bakamjian (consultant), Karen Newman (consultant), and Joseph Brown Winchester (Bill & Melinda Gates Foundation).
Dr. Hardee additionally presented on "Linking Policies to Reproductive Health Programs and Outcomes: The Importance of the Policy Implementation Space," as part of a session on the evaluation of family planning/reproductive health policy. Using examples from the field, the paper identifies the challenges in policy implementation that affect programs and health outcomes. The study's analysis also identified gaps in the literature pertaining to the areas of sexual and reproductive health policy implementation, and monitoring and evaluation. Paper co-authors were Laili Irani (Health Policy Project, Population Reference Bureau) and Mariela Rodriguez (HPP/Futures Group).
Additionally, Elizabeth McDavid presented a study entitled, "Assessing Efforts to Reposition Family Planning in Francophone West Africa: Methodology and Common Findings in Eight Countries," which was co-authored by colleagues Modibo Maiga (HPP), Elizabeth Snyder (MEASURE Evaluation/UNC), and Nicole Judice (HPP). Scott Moreland (Futures Group) also presented on the intersections of population and climate. His presentations were entitled "Modeling Synergies between Women-centered Interventions and Family," and "Modeling the Linkages between Climate Change, Food Security, and Population."
For more information on HPP's work on repositioning family planning, see http://www.healthpolicyproject.com/index.cfm?id=topics-RepositionFP.
For more information on HPP's work on gender in Asia and the Middle East, see http://www.healthpolicyproject.com/index.cfm?id=gpm
For more information on RAPIDWomen, an interactive software tool that links family planning and women-centered strategies, see http://www.healthpolicyproject.com/index.cfm?id=topics-RAPID