The Health Policy Project has ended, but work continues under a new USAID five-year project, Health Policy Plus (HP+).
NEWS & VIEWS
IAC 2012 Roadmaps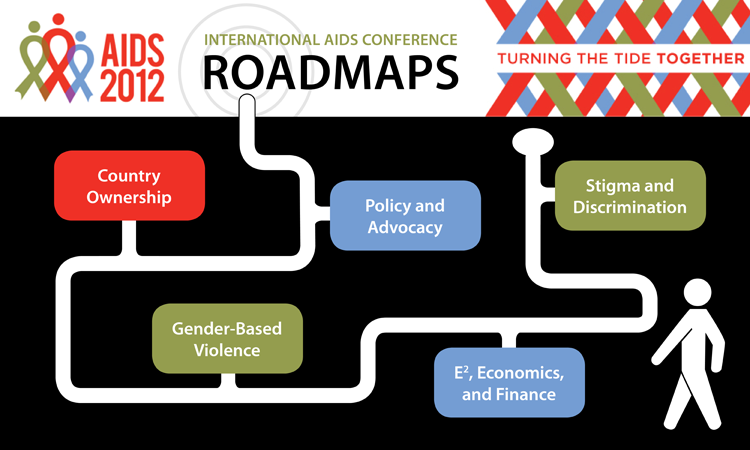 The
XIX International AIDS Conference
will be held July 22-27, 2012, in Washington, DC. As the world's largest gathering for policymakers, researchers, persons living with HIV, and other individuals working in the field of HIV, the conference provides the opportunity to assess recent progress and lessons learned and collectively chart the course forward in ending the pandemic.
The Health Policy Project (HPP) works to strengthen efficient and effective responses to HIV and increase country ownership by building local capacity for improved health policy, advocacy, and governance. In addition to participating in the conference, HPP and partners have assembled topical session plans, or roadmaps. These roadmaps outline sessions organized by dozens of organizations participating in the XIX International AIDS Conference and enable conference participants to locate sessions on key topics of interest more easily.
Conference Roadmaps
Country Ownership

Effectiveness and Efficiency (E2)
Economics and Finance

Gender-Based Violence

Policy and Advocacy

Stigma and Discrimination

The Health Policy Project will be participating in the following satellite sessions:
Sunday, July 22: 11:15 a.m. - 1:15 p.m.
A Reason to Celebrate: What Works for Women in Girls -- Evidence for HIV/AIDS Interventions
Location: Session Room 7
Satellite session synopsis
Sunday, July 22: 1:30 p.m. - 3:30 p.m.
No "Getting to Zero" Without Scale-Up of Stigma Reduction
Location: Session Room 8
Satellite session synopsis
Thursday, July 26: 7:00 a.m. - 8:30 a.m.
What Africa Teaches Us: PEPFAR's Transformation of the U.S. Domestic HIV Response
Location: Mini Room 2
Satellite session synopsis

For more information about the International AIDS Conference, please visit the official conference website at www.aids2012.org.