The Health Policy Project has ended, but work continues under a new USAID five-year project, Health Policy Plus (HP+).
NEWS & VIEWS
Health Policy Project at the Second Symposium on Health Systems Research
Strengthening Health Systems to Achieve Universal Health Coverage
Posted November 2012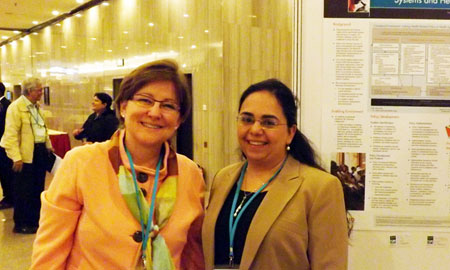 Dr. Karen Hardee (left) and Dr. Laili Irani (right) present their poster, "How Do Health Policies Affect Health Systems and Outcomes" at the Symposium on Health Systems Research in Beijing. Photo by Health Policy Project.
BEIJING, China—From October 31 through November 3, 2012, more than 1,700 participants took part in over 200 events at the Second Symposium on Health Systems Research in Beijing, China. The symposium provided an opportunity for researchers, policymakers, health experts, and other stakeholders across disciplinary boundaries to share information on current evidence that supports the implementation of universal health coverage in low-income countries.
In many countries, millions of people suffer because they cannot access the healthcare they need, or because paying for health services pushes them into poverty. The aim of universal health coverage is to ensure that all people have access to needed health services without facing undue financial hardship. However, as the cost of health services continues to increase, governments face challenges in trying to meet the health needs of their people. To achieve universal health coverage, countries must strengthen their existing health systems to maximize resources and the efficiency and effectiveness with which they provide essential health services.
The symposium in Beijing highlighted research on strengthening health systems to achieve universal health coverage. In addition, many sessions featured discussion on the continued need to build capacity for health policy and systems research, particularly in low-income countries.
The Health Policy Project (HPP) supports health systems by collaborating with health system actors to strengthen policy frameworks for the health sector. We build the capacity of policymakers to define the rules that govern the health sector more clearly and of civil society to hold policymakers accountable for these rules. HPP also collaborates with host-country stakeholders to generate and use health system data, including finance and service data, to better understand and address health system needs.
During the symposium, HPP co-sponsored a panel discussion with the Alliance for Health Policy and Systems Research, "How Can Research Hit the Mark for Health Policy and Systems Decision-making." Karen Hardee and Suneeta Sharma represented HPP on the panel alongside Dr. Joseph Kasonde, Minister of Health in Zambia; Professor Anne Mills from the London School for Hygiene and Tropical Medicine; Dr. Richard Horton, editor of The Lancet; and Dr. Ariel Pablos-Mendez, Assistant Administrator of the U.S. Agency for International Development (USAID). The panel generated a lively discussion and calls for the need to strengthen country-level research on health policy and systems.
HPP's Karen Hardee, Laili Irani, Suneeta Sharma, and Mai Hijazi (from USAID) facilitated a session on "Strengthening Research on Policy Implementation and Why It Matters for Health Policy and Systems Research," which attracted participants from 15 countries. Suneeta Sharma and Sarah Alkenbrack, through the Health Policy Initiative Costing Task Order, also led an informative session, "Using Data and Tools to Inform Resource Allocation for the HIV Response."
The work supported by the Alliance for Health Policy and Systems Research to build the evidence-base on health policies and health systems—and build capacity to understand such research—was evident in the breadth of presentations at the symposium and in the range of countries represented by participants at the symposium. The symposium resulted in the Beijing Declaration, which calls for strong support for research and strengthened national and global capacity for health policy and systems research.
For more information and coverage on the meeting, visit the symposium knowledge hub.
Learn more about Health Policy Project activities in health systems strengthening