The Health Policy Project has ended, but work continues under a new USAID five-year project, Health Policy Plus (HP+).
NEWS & VIEWS
Financing Health in the Post-2015 Era: Filling Gaps for Sustained Impact
By Kenneth Simbaya
July 17, 2014
This news story was originally posted on IPP Media's website: http://www.ippmedia.com/frontend/index.php?l=82292.
Most pregnant women in Tanzania risk losing their lives and babies due to lack of skilled labour, the Global Forum on Financing for Development was told yesterday.
Health Policy Project (HPP) Director Suneeta Sharma was addressing a session on health financing in the post-2015 era whose theme was: 'Filling the Gaps for Sustainable Impact.'
It was jointly organised by the United States Agency for International Development (USAID), General Electric (GE) and HPP.
According to her, women in Tanzania face many challenges when it comes to accessing health services. They range from the distance to health facilities, lack of crucial equipment at health facilities, shortage of staff to high costs of accessing the service.
"One in four women in Tanzania cannot seek health care services because they are too expensive," she said, noting that the risk of women losing their life and babies stands at 40 percent.
She said financing the health sector was a big problem not only in Tanzania, but in many developing countries because most depend on donor funding.
According to HPP, as donor funding for HIV and other health programmes decrease, resources are focused on more urgent needs.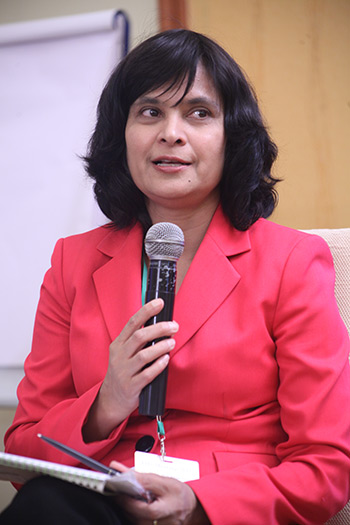 HPP Project Director, Suneeta Sharma, presenting at the project's conference session, "Financing Health in the Post-2015 Era: Filling Gaps for Sustained Impact."
Therefore, developing countries must identify sustainable alternative (non donor) resources to support health systems, it said.
One of the four panelists at the session, David Lyamuya from the White Ribbon Alliance for Safe Motherhood Tanzania, attributed the challenges to lack of accountability in policy implementation, budget allocation and utilisation.
This is according to the 2010 Tanzania Demographic and Health Survey (TDHS), he said.
He said delivering at health facilities and being assisted by skilled attendants reduce incidences and severity of obstetric and new-borns. They also saves the lives of pregnant women and newborn babies.
Statistics from the TDHS 2010 show that in Tanzania only 50 percent of women deliver in health facilities while 51 percent are assisted by health professionals.
They also show that only 15 percent of the women are attended by traditional birth attendants, 29 percent by relatives and three percent deliver alone without any assistance.
According to the TDHS, while the national percentage of delivering in health facilities is 50 percent, the regional ratio for Mara and Kigoma is (33.3percent), Rukwa (30 percent) and North Pemba (23.6 percent).
Financing Health in the Post 2015 era: Filling the Gaps for Sustainable Impact is one of the side events among more than 200 such events to be conducted during the Third Financing For Development (FFD) Conference taking place in Ethiopia.
The conference, which ends on July 16, 2015, will set the framework for financing sustainable development goals over the next 15 years, from 2015 to 2030.