The Health Policy Project has ended, but work continues under a new USAID five-year project, Health Policy Plus (HP+).
NEWS & VIEWS
Transforming Afghanistan's Health System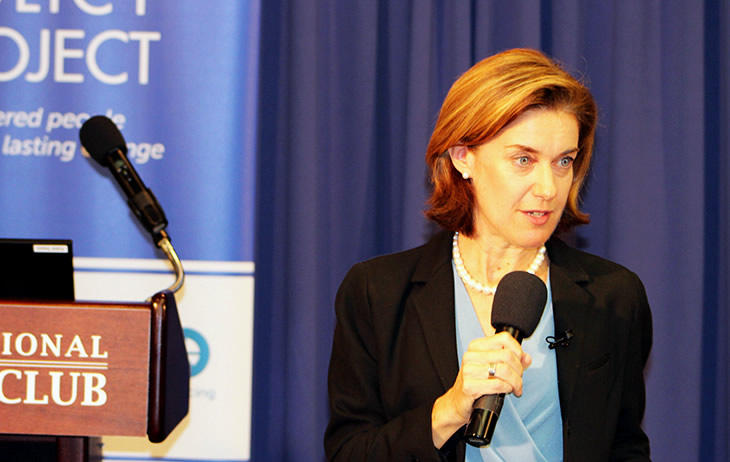 Health Policy Project
"You can learn a lot about a country from the way people drive. How much a country cares about the health of its people is telling, too, and Afghanistan has been making that a high priority."—Karen Allen, BBC
Health Policy Project
"It's not enough for one sector to make progress. All sectors of a society have to succeed, too. The health sector has consistently performed well in Afghanistan, and other ministries can learn from it."— Ambassador Frederick (Rick) Barton, former U.S. Assistant Secretary of State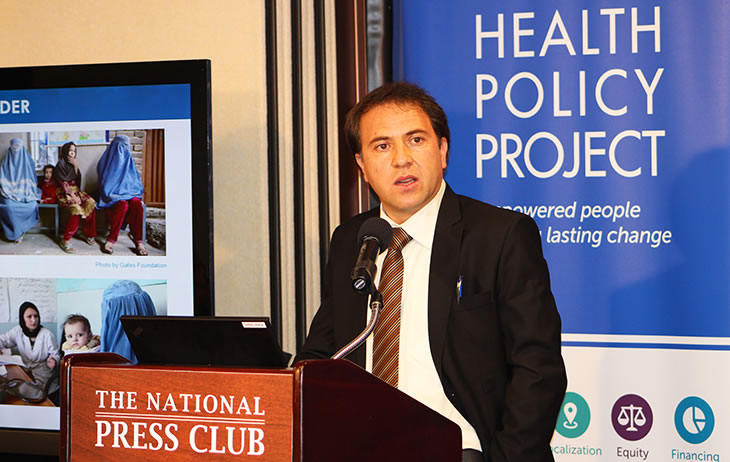 Health Policy Project
"Two of the lessons the health ministry has learned are that full engagement of the private sector only enhances outcomes, and gender integration has to be systemwide, from the highest administrative levels to the providers in clinics."—Omarzaman Sayedi, M.D., HPP Afghanistan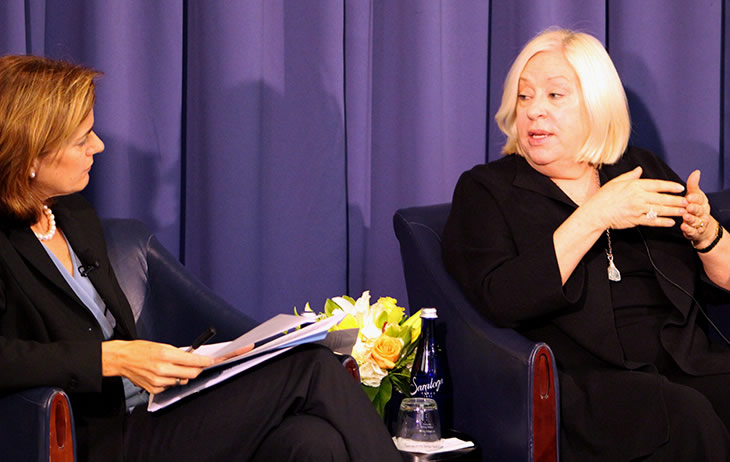 Health Policy Project
"To appreciate how far Afghanistan has come and how far it can go with a measure of continued support, we should ask, 'What would Afghanistan be like now without our help?' We need more communication about what has actually taken place to remind us of what has already been achieved."—Carol Horning, U.S. Army War College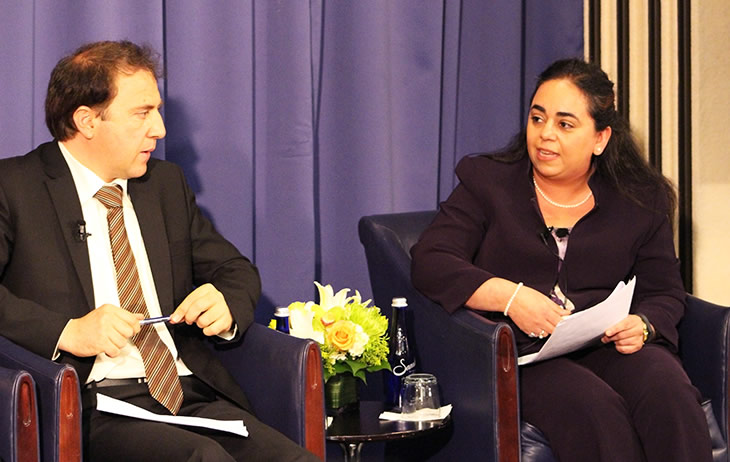 Health Policy Project
"Administrators I interviewed in private hospitals are committed to serving the Afghan people. They sometimes lower fees to make services more affordable, and are attracting investors not just to build structures but also to invest in medical technology and train people to operate it. The hospitals have been flourishing."—Laili Irani, M.D., Population Reference Bureau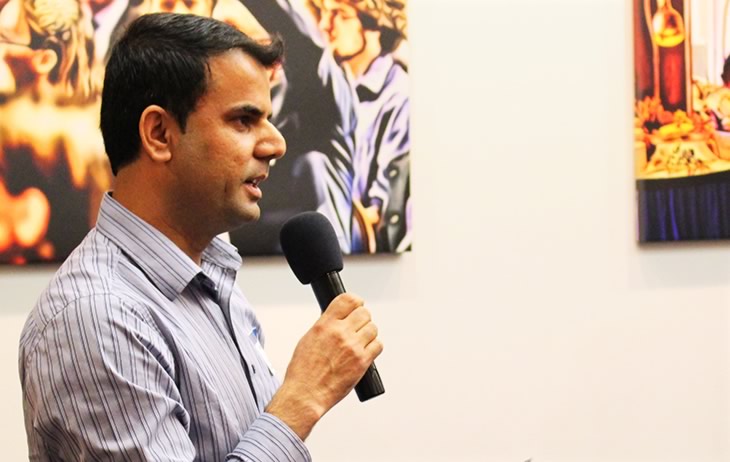 Health Policy Project
Want to learn more about HPP's work in Afghanistan? Visit the country page.
Posted April 3, 2015
WASHINGTON, DC—Afghanistan has declared 2015–2024 its "Decade of Transformation." On April 2, the USAID-funded Health Policy Project (HPP) convened a forum of distinguished speakers at the National Press Club to discuss where the country's health system stands now and the progress that's envisioned in the years to come.
On the heels of President Ashraf Ghani's visit to the U.S. capital in March, "Afghanistan: Transforming Its Health System to Address the Needs of Its People" offered members of the international development community, policymakers, and representatives of media, think tanks, and donor organizations a timely survey of the results from the past three years of HPP's work to strengthen the country's governance and stewardship of the health sector.
Karen Allen, a BBC foreign correspondent with extensive experience covering Afghanistan and international health, moderated a panel whose members brought deep and diverse perspectives on the country. Her overarching question for the speakers was, "What are reasonable expectations of a health system in a country that's on a war footing?"
Ambassador Frederick (Rick) Barton, former U.S. Assistant Secretary of State and the first head of the Bureau of Conflict and Stabilization Operations in the Obama Administration, framed Afghanistan's progress in health and education in the context of the government's challenges to rebuild the country. "Afghans are among the most resourceful people on earth," he said. "What they can accomplish depends on how much they buy into the country's democratic changes, and how much they are willing to sacrifice."
According to Omarzaman Sayedi, M.D., team leader for HPP Afghanistan, the country's level of commitment to democratic change is evident in the work the Ministry of Public Health has done—with HPP's support—to strengthen its stewardship of the private health sector through regulation and monitoring, and to partner with the private sector in the provision of health services. "The ministry has used the support of USAID and other donors to lay the foundation for greater capacity, sustainability, accountability, and transparency," he said.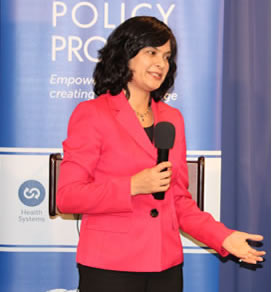 "It all starts with policy. Government stewardship of the health system is thriving in Afghanistan, and the declining mortality rates and expanding life expectancy prove it."—Suneeta Sharma, Health Policy Project
"The change that has taken place in Afghanistan is incredible, and it is rooted in policy," said Carol Horning, professor of International Development at the U.S. Army War College and former director of the Office of Social Sector Development at USAID/Afghanistan. She cited the establishment of a free, basic package of health services, public/private partnerships for healthcare, and assessment of alternatives in health financing as examples. "For change to be sustainable, a government has to be seen as legitimate and effective," she added. "Surveys by the Asia Foundation show a trend since 2006 that Afghans believe their country is moving in the right direction"—54.7 percent in 2014.
Afghanistan's health sector has made dramatic progress in gender, according to Laili Irani, M.D., senior policy analyst at the Population Reference Bureau, one of HPP's implementing partners. "In four years, the gender unit has risen to the level of a directorate within the health ministry, highlighting the government's commitment to address gender barriers," she said. At the same time, there's been "a huge push to train and hire more women in healthcare."
Afghanistan's Achievements Since 2002
60% of Afghans now live within an hour's walk of health services
Life expectancy has increased from 42 to 62 years
Maternal mortality—though still among the highest in the world—has declined by 80%
Child mortality has declined by 44%
Additional Resources