The Health Policy Project has ended, but work continues under a new USAID five-year project, Health Policy Plus (HP+).
NEWS & VIEWS
Vice-President of Ghana Oversees Launch of New System to Address HIV-related Discrimination
December 2, 2013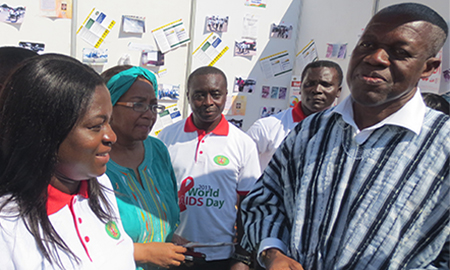 Ms. Lauretta Vivian Lamptey, Commissioner of CHRAJ, and Ms. Vivian Fiscian, a consultant with the Health Policy Project, explain details of the HIV-related discrimination reporting system, developed with support from the USAID- and PEPFAR-funded Health Policy Project, to H.E. Kwesi Bekoe Amissah-Arthur, Vice-President of Ghana, during his visit to the CHRAJ stand after World AIDS Day celebrations in Wa, Ghana, as staff from the Ghana AIDS Commission look on. Photo by Ryan Olson/Health Policy Project.
WA, Ghana—HIV-related stigma and discrimination remains a serious challenge in Ghana. Now, those experiencing discrimination in Ghana can turn to the Commission on Human Rights and Administrative Justice (CHRAJ) for help.
At World AIDS Day events in Wa, Ghana on December 2nd, H.E. Kwesi Bekoe Amissah-Arthur, Vice-President of Ghana, oversaw the launch of a new web-based system for handling cases of HIV-related discrimination. The new web-based system, managed by CHRAJ and found at http://drsystem.chrajghana.com/, is designed to improve access to justice for people living with HIV and key populations at higher risk of HIV. Individuals and organizations may report cases of HIV-related discrimination through the system by completing a short questionnaire. Additional features, such as case tracking, are accessible to organizations that register through the system. These features will enable organizations to monitor the progress of complaints after submitting them to CHRAJ.
The system was built with support from the U.S. President's Emergency Plan for AIDS Relief (PEPFAR) and the U.S. Agency for International Development (USAID). At the launch event, U.S. Ambassador to Ghana Gene A. Cretz stated that the "U.S. Government is proud to work with CHRAJ and GAC [the Ghana AIDS Commission] to ensure recourse against stigma and discrimination."
Creation of the web-based system reflects increasing recognition that discrimination faced by people living with HIV and key populations, including men who have sex with men, sex workers, and people who inject drugs, undermines human rights and quality of life. People living with or associated with HIV may face job loss, violations of confidentiality, and travel restrictions. Stigma in healthcare settings, resulting in sub-standard care, rejection, and reluctance to seek healthcare, is also a major challenge in Ghana.
Discrimination can be addressed by ensuring that relevant legislation on employment discrimination, healthcare protection, and migration are respected and enforced. By improving reporting and tracking of discrimination, CHRAJ's new system will enhance accountability and help uphold the rights of people living with HIV and other key populations.
Beginning in April 2012, CHRAJ, the Ghana AIDS Commission, and the PEPFAR- and USAID-supported Health Policy Project (HPP) worked closely with other governmental and non-governmental stakeholders to develop the web-based system. Stakeholders outlined requirements for the system, discussed capacity needs, and defined civil society contributions.
In response, CHRAJ strengthened its capacities to manage cases of HIV-related discrimination, including improving policies and procedures on confidentiality and providing trainings to staff. CHRAJ officers from Greater Accra were trained on how to use the system, as well as on HIV-related stigma and discrimination and interviewing techniques. These officers will form the core of CHRAJ staff providing legal services to people living with HIV and key populations. Training also will be introduced more widely in Western, Central, and Ashanti regions following training of CHRAJ regional staff on the reporting system's function and use. System oversight will be provided through a Reporting System Committee composed of key government and civil society partners.
CHRAJ was created in 1993 to investigate incidents of corruption, act as a government ombudsman, and promote human rights. Since its inception, CHRAJ has been a leader in protecting and promoting the rights of women and children. In 2011, the Commission handled 13,000 cases of discrimination. HIV-related discrimination falls within the Commission's broad mandate, and CHRAJ is committed to protecting the human rights of all people living with HIV, with attention to key populations most affected by HIV.
For more information on HPP's work to reduce stigma and discrimination, click here: http://www.healthpolicyproject.com/index.cfm?id=topics-Stigma
For more information on HPP's work in Ghana, click here: http://www.healthpolicyproject.com/index.cfm?id=country-Ghana