The Health Policy Project has ended, but work continues under a new USAID five-year project, Health Policy Plus (HP+).
PUBLICATION
Family Planning in Ethiopia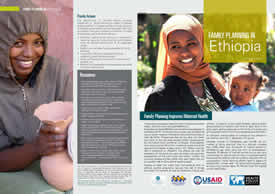 Author(s): Diana Nambatya (PPD ARO)
Primary Language: English
Date: 8/24/2012
Abstract:
The Partners in Population and Development global alliance, through its Africa Regional Office (PPD ARO), uses South-to-South dialogue as an effective mechanism to hold leaders and countries accountable for stated international and regional commitments related to health. Through the Health Policy Project, PPD ARO is sharing expertise, best practices, effective models, and high-level policy dialogue surrounding population and health issues with African policymakers and partners at the national and regional levels. Specifically, to raise awareness among parliamentary health committees on the linkages between improving family planning/reproductive health and achieving national development goals, PPD ARO is developing and disseminating policy briefs on family planning in Ethiopia, Ghana, Malawi, and Uganda.
At the request of and in partnership with Ethiopia's Federal Ministry of Health (FMOH), PPD ARO developed a policy brief for initial dissemination at the Women Parliamentarians Meeting: Enhancing Leadership for Family Planning and Reproductive Health in Kampala, Uganda, August 27–28, 2012. The brief highlights the important role of family planning in achieving maternal health and other development goals, as well as presents policy recommendations for increasing family planning use. FMOH stakeholders contributed to the recommendations, which focus on increasing financing for family planning commodities, especially long-acting methods (permanent and non-permanent). Expanded dissemination to policymakers across Ethiopia will help foster more champions of family planning as the country builds momentum for further progress.