The Health Policy Project has ended, but work continues under a new USAID five-year project, Health Policy Plus (HP+).
PUBLICATION
Illustrative CIP Process Roadmap and Sequencing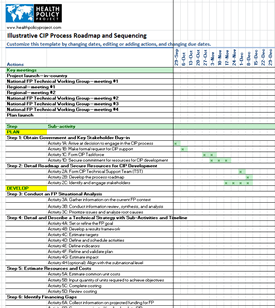 Author(s): Health Policy Project
Primary Language: English
Date: 3/20/2015
Abstract:
This Excel workbook is a customizable file associated with the document,"Costed Implementation Plans for Family Planning: 10-Step Process for CIP Planning, Development, and Execution." The file presents an illustrative activity roadmap and sequencing for completing a CIP process. Users can customize this template by changing the schedule dates, editing or adding actions, and changing due dates.
This resource is part of the CIP Resource Kit, which can be accessed at http://www.familyplanning2020.org/cip.