The Health Policy Project has ended, but work continues under a new USAID five-year project, Health Policy Plus (HP+).
PUBLICATION
Nigeria RAPID Population and Development: How Fertility Affects Development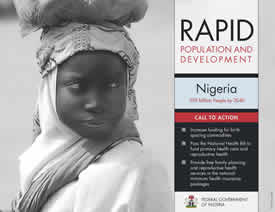 Author(s): National Population Commission
Primary Language: English
Date: 11/1/2011
Abstract:
In 2011, the Health Policy Project, in collaboration with the Family Planning Action Group (FPAG), supported the development of a Nigeria RAPID application. The FPAG, comprising governmental and nongovernmental organizations, focuses on the state of family planning in Nigeria and the need for more support and funding for the national family planning program. "RAPID" stands for "Resources for the Awareness of Population Impacts on Development," and it is a tool designed to help policymakers understand the relationships between fertility, population growth, health, education, agriculture, economic growth, and national security. This package of materials uses RAPID projections to highlight the impact of Nigeria's population growth on national development and its ability to provide education, health, and nutrition to all its citizens. By lowering average fertility, savings in primary education and health could amount to $37 billion and $45 billion, respectively, by 2040.
Also see the RAPID package of materials highlighting the impact of high fertility on maternal and child health: Nigeria RAPID Population and Development: Why Fertility Affects Health.