The Health Policy Project has ended, but work continues under a new USAID five-year project, Health Policy Plus (HP+).
NEWS & VIEWS
New Skills Help Afghan Ministry of Public Health Track Expenditure Data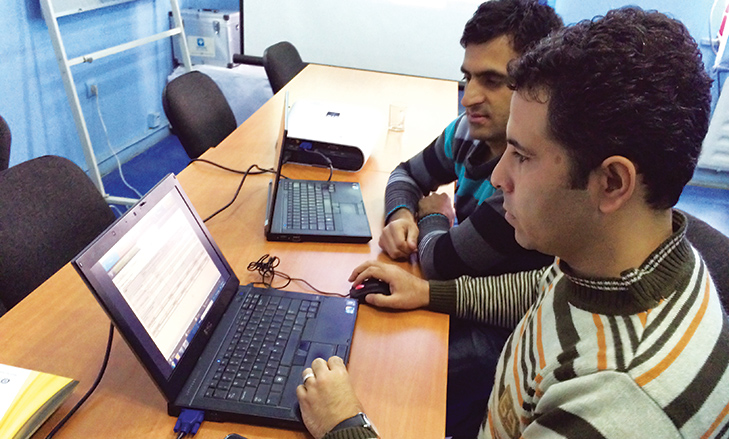 Following HPP training, staff at the Ministry of Public Health's Health Economics and Financing Directorate now use the National Health Accounts tracking tool to conduct analyses and monitor the country's health spending.
January 6, 2014
KABUL, Afghanistan– When governments are able to track health spending, they benefit from increased accountability and transparency, as well as better-informed decision making for budgeting. To monitor the country's health spending, since 2008 the Afghanistan Ministry of Public Health (MOPH) has used the powerful National Health Accounts (NHA) tracking tool to understand who is spending health funds and where and how those funds are being spent.
The NHA framework is an international, standardized resource-tracking methodology used to summarize and analyze spending in a country's health sector. It enables governments to measure total health expenditures for a specified period of time and, by analyzing spending in both the private and public sectors, generates a comprehensive picture of the flow of funding into the health system. Data for analysis come from the government, international donors, implementing partners, and households. National estimates are then derived from tables that the tool produces, based on international classifications of health accounts for country-to-country comparisons. More than 50 developing countries use the tool to track health system expenditures, resulting in greater accountability, more strategic use of government funds, and greater sustainability of financial operations.
Afghanistan faces daunting challenges to improving healthcare for its citizens. Its key health indicators, such as maternal, infant, and child mortality rates, are among the highest in the world. Access to health services is poor or virtually nonexistent in many areas. Out-of-pocket health expenditures for households are very high, and 36 percent of the population lives below the national poverty level (less than US$1 a day). Another serious public health challenge is that, based on national performance assessments, the quality of health services is stagnant. As the country emerges from decades of war, its fragile health systems need considerable investment from donors, government, and private sources.
Developing the Capacity to Use the NHA
During the first round (2008–2009) of the NHA, staff at the MOPH's Health Economics and Financing Directorate (HEFD), "relied on a lot of technical assistance from foreign experts," said Dr. Mir Najmuddin Hashimi, NHA team leader. By the time of the second NHA round (2011–2012), the team had received hands-on training from the USAID-supported Health Policy Project (HPP). "With the experience we got from [HPP] training on the NHA production tool and how to develop the subaccounts, we can produce the tables on our own, and even hope to expand next time to include the subaccounts for child health and disease programs."
The HEFD's NHA team now has the capacity to independently design expenditure data collection forms, enter and analyze data in the tool, and interpret results.
In addition, the second NHA round added targeted analysis of reproductive health (RH) expenditures—called the RH Subaccounts—demonstrating the MOPH's commitment to improving the health of mothers and infants.
Findings from the NHA
Results from the second NHA round show that between 2011 and 2012, spending on the health sector in Afghanistan was about US$1.5 billion (8 percent of gross domestic product [GDP]). Total government expenditure on health rose nearly 32 percent since the first NHA (2008–2009), increasing per capita expenditure on health from US$42 to US$56. Nevertheless, private households remain the primary source of financing for the Afghanistan health system, accounting for nearly three-quarters (73 percent) of all health spending, compared to the central government, which pays for only 5.6 percent. Another finding is that, of total health expenditures, US$246,744,339 (16 percent) was spent on RH services.
Despite absolute increases in health spending, total health expenditures as a percentage of GDP decreased 2 percent over three years, and government expenditure on health as a percentage of total government expenditure did not improve. This indicates that the burden of financing the health system continues to fall largely on individual households, and that the poorest households have exorbitant expenditures for essential health services. This is often the case in countries without risk protection mechanisms such as health insurance or equity funds to protect the poorest citizens from catastrophic health expenditures.
"We see now that very [few] public funds go to the health sector, and there are still high out-of-pocket payments by households," said Dr. Shuhrat Munir, an NHA team member. "We need more commitment from the government to ensure that our families, especially women and children, have access to quality health services."
Putting New Evidence to Work
In addition to guidance for budgeting, results from the second NHA round provide powerful evidence that the MOPH can use when requesting higher levels of health funding from the central government to expand and improve the quality of services. NHA data have also led the MOPH to prioritize an investigation of financial risk protection mechanisms. With HPP's assistance, the MOPH will conduct a feasibility study of implementing health insurance in Afghanistan.
During a dissemination workshop to share the results of the second round of the NHA in September 2013, Dr. Suraya Dalil, the minister of public health, pointed out the NHA's value for pending national discussions about budget allocations to health.
"Afghanistan's National Health Accounts and the first Reproductive Health Subaccounts exercises represent great milestones for us," she said. "With the findings from the 2011–2012 NHA, the Ministry of Public Health is equipped with the evidence to evaluate spending over time and compare [it] with the goals and objectives from the National Health Policy and strategic plans."
Because the NHA has proven to be such a valuable analytic tool, the HEFD's NHA team is working with HPP's support to more deeply institutionalize it within Afghanistan's health system by developing country guidelines, standardizing methodologies, and expanding subaccounts.
For more information on HPP's programs in Afghanistan, visit our website at: http://www.healthpolicyproject.com/index.cfm?id=country-Afghanistan.
Download this story (PDF)