The Health Policy Project has ended, but work continues under a new USAID five-year project, Health Policy Plus (HP+).
NEWS & VIEWS
HPP/Afghanistan Celebrates Three Years of Health Sector Progress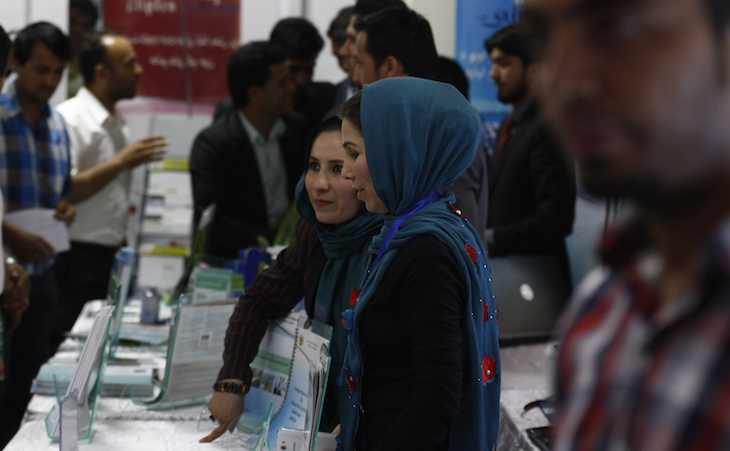 June 4, 2015
KABUL, Afghanistan—On June 2, 2015, the USAID-funded Health Policy Project (HPP)/Afghanistan conducted a symposium at the Ministry of Public Health (MOPH). This event was an opportunity for the project to share its milestones with a diverse set of stakeholders representing government, civil society, business, and donor agencies and organizations. Ahmad Jan Naeem, M.D., the Deputy Minister for Policy and Planning, opened the symposium with an appreciation of HPP/Afghanistan's collaboration with the health ministry since 2012.
Monique Mosolf, the director of USAID/Afghanistan's Office of Social Sector Development, discussed HPP/Afghanistan's achievements in the context of the country's declaration of 2015 to 2024 as its "decade of transformation." She described how the project's efforts to strengthen Afghanistan's governance and stewardship of the national health system have helped the system move toward greater self-reliance.
HPP/Afghanistan's team leader, Omarzaman Sayedi, M.D., followed up with details on what the MOPH has achieved with HPP's support:
An improved policy environment for effective delivery of health services and products through partnerships with the private sector
MOPH regulatory functions defined and strengthened to implement national health policies and strategies
Stronger health financing capacity and systems
Increased capacity of private-sector organizations: the Afghanistan Private Hospitals Association, Afghanistan Midwives Association/ Organization of Afghan Midwives, Afghan Medicines Services Union, and Afghan Social Marketing Organization
Implementation of the gender strategy and mainstreaming of gender throughout the health sector
The symposium ended with discussions on the outlook for sustainable health financing and the growth of Afghanistan's private health sector. The panelists represented USAID, the MOPH, and the private sector.
Explore our interactive timeline showcasing HPP/Afghanistan's achievements