The Health Policy Project has ended, but work continues under a new USAID five-year project, Health Policy Plus (HP+).
PUBLICATION
Approach for Promoting and Measuring Gender Equality in the Scale-Up of Family Planning and Maternal, Neonatal, and Child Health Programs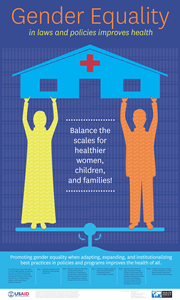 Author(s): Elisabeth Rottach
Primary Language: English
Date: 1/8/2013
Abstract:
To achieve the greatest possible improvement in family planning (FP) and maternal, neonatal, and child health (MNCH) outcomes, successful interventions, practices, and approaches must be "scaled up"—that is, implemented on a larger scale and incorporated into the laws, policies, and structures that govern health systems. Gender equality is central to successful and sustainable scale-up because it significantly influences health outcomes, and many barriers to program scale-up are related to inequitable gender norms.
The Health Policy Project's Gender, Policy, and Measurement program (GPM) has designed an approach to help countries advance the systematic integration of gender equality into the scale-up of FP/MNCH interventions and best practices. The approach draws heavily on the process for integrating gender equality into programs and policies—the steps of which include
Conduct gender assessments
Prepare for gender-integrated scale-up
Develop a gender-integrated scale-up strategy
Implement and monitor gender-integrated scale-up
Evaluate gender and health outcomes