The Health Policy Project has ended, but work continues under a new USAID five-year project, Health Policy Plus (HP+).
PUBLICATION
Costed Implementation Plans for Family Planning: 10-Step Process for CIP Planning, Development, and Execution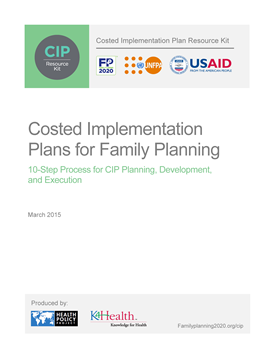 Author(s): Health Policy Project
Primary Language: English
Date: 3/20/2015
Abstract:
Newer CIP resources are available from the HP+ CIP toolkit.
This guide distills the experience of technical experts, governments, and donors in developing costed implementation plans (CIPs) for family planning into a 10-step process, implemented in three phases: planning, development, and execution.
This tool provides an overview of the complete CIP process, including details on each of the 10 steps and sub-steps, and illustrates how and when specific tools and approaches can be applied. This guide is the foundational document of the CIP Resource Kit, which can be accessed at http://www.familyplanning2020.org/cip.