The Health Policy Project has ended, but work continues under a new USAID five-year project, Health Policy Plus (HP+).
NEWS & VIEWS
New Budget Analysis Calls on Kenya's County Governments to Increase Health Budget Allocations
October 1, 2015
NAIROBI, Kenya—The Kenya Ministry of Health's (MOH) latest health budgeting report, the 2014/2015 National and County Health Budget Analysis, details changes in Kenya's national and county budgets between the last two fiscal years (FYs) and provides evidence intended to improve the country's current budgeting practices.
In FY 2013/14, the MOH requested assistance from the USAID- and PEPFAR-funded Health Policy Project (HPP)/Kenya to analyze national and county-level budgets to inform future planning and budgeting processes. That first analysis showed that county-level allocations to health decreased substantially with the onset of devolution—Kenya's constitutional mandate to decentralize its government, delegating greater authority to its 47 newly established counties.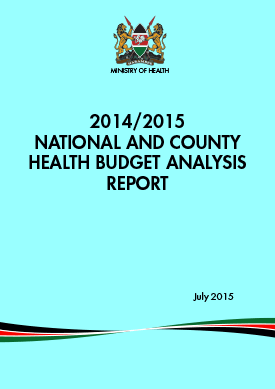 In FY 2014/15, the MOH again requested the assistance of HPP/Kenya to conduct a national and county health budget analysis, this time to assess whether budget allocations were aligned with health sector priorities and to draw comparisons between FYs 2013/14 and 2014/15. Nationally, the MOH's FY 2014/15 health budget increased by 34 percent over the previous year (FY 2013/14), even while contributions from development partners decreased.
At the county level, average allocations to health also increased, jumping from 13 percent (FY 2013/14) to 22 percent (FY 2014/15). However, the analysis found substantial differences between individual counties. For instance, in FY 2013/14, over 80 percent of counties allocated at least 15 percent of their budgets to health. This past year (FY 2014/15), the percentage of counties that met the 15 percent threshold fell to less than 50 percent. Additionally, while the average allocation to health across counties rose, county decisionmakers continued to provide the majority of funding to visible infrastructure projects, rather than health services.
Speaking to the report's findings, HPP/Kenya director Stephen Muchiri commented, "We have worked with the MOH to share the findings from the analysis with the national government, counties, and development partners to underscore the need for increased health budget awareness and advocacy to ensure that health outcomes do not suffer due to the lower funding of health services."
As a first step toward achieving this goal, the FY 2014/15 analysis outlines a series of recommendations. These include the need for counties to match infrastructure investments with human resources and other necessary inputs to ensure that facilities are not under-utilized, and the need for counties to support a move toward program-based budgeting (i.e., a budget organized around a set of priority health programs).