The Health Policy Project has ended, but work continues under a new USAID five-year project, Health Policy Plus (HP+).
NEWS & VIEWS
How Much Does it Cost?
Study Process Builds Capacity in Côte d'Ivoire to Understand Costs Required to Reach Key Populations with Health and HIV Services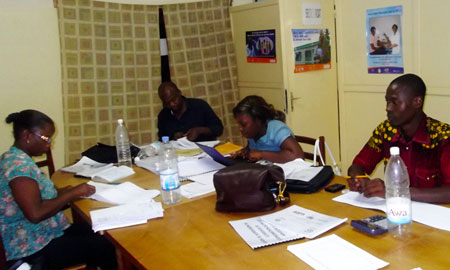 Data collectors and their supervisor work together to integrate recommendations from the technical working group during a supervision visit to Korhogo.
Photo by Health Policy Project.
With an estimated HIV prevalence of 3.4 percent, Côte d'Ivoire remains one of the countries most affected by HIV in West Africa. However, prevalence rates among certain key populations, including males who have sex with males and sex workers, are significantly higher than those of the general population.
Given the growing importance of doing more with fewer resources, effectively targeting key populations, and building country capacity and ownership as countries transition from a donor-led development process to a process featuring the greater participation of in-country stakeholders, a simple question – "How much does it cost?" – can turn into a demonstration of how to effectively expand the scope of providing health services.
Accurate data on the costs associated with HIV policies and programs is crucial to maximizing efficiency and effectiveness of interventions. This information enables decision makers to understand cost components and set more realistic budgets. Economic evaluation and analyzing cost-effectiveness also allows decision makers to reliably weigh potential costs and impacts of different program designs.
Responding to a need for data on the estimated cost of expanding HIV services to key populations in Côte d'Ivoire, the Health Policy Project (HPP) designed a study to estimate costs associated with reaching key populations with HIV services. HPP's approach included targeted trainings and on-site support. A team of 11 stakeholders from the government of Côte d'Ivoire and the President's Emergency Fund for AIDS Relief (PEPFAR) served as local investigators for the study. This technical working group, led by Dr. Margaret Thiam, manager of the Key Populations Program under the Ministry of Health and AIDS, was actively involved in all study activities, from conception of the study to collecting and analyzing the data.
"Rarely has a partner empowered and involved us to this degree in an activity of operational research," Thiam says. "My program has truly been strengthened. There was a real ownership by the government and a deep respect and consideration for the technical working group throughout this work."
As part of this process, HPP organized and led four capacity-building workshops for the technical working group. A protocol development workshop provided the basics of HIV costing and used interactive exercises to make methodological decisions for the study. The second workshop focused on data collection, with participants familiarizing themselves with study data collection tools, practicing data collection techniques, and learning how to pilot tools in the field. During the third workshop, aimed at skills transfer in data analysis techniques, the working group participated in hands-on practical sessions to clean, format, and analyze costing data.
HPP and the working group presented preliminary results to key stakeholders from government and other organizations involved in HIV prevention and drafted the final report based on their feedback. These efforts also strengthened the capacity of government staff in costing methodologies so that they are able to conduct similar costing activities on their own.
As a result, the government of Côte d'Ivoire and partner organizations can use the costing data to inform their policies and budgetary preparations. More importantly, the government will be better equipped to maximize the funding resources required to provide access to crucial health and HIV prevention, care, and treatment services to among key populations and improve the overall response to HIV.

Learn more about Health Policy Project activities in Cote d'Ivoire