The Health Policy Project has ended, but work continues under a new USAID five-year project, Health Policy Plus (HP+).
NEWS & VIEWS
Advocating for Family Planning in Uganda
Posted August 5, 2013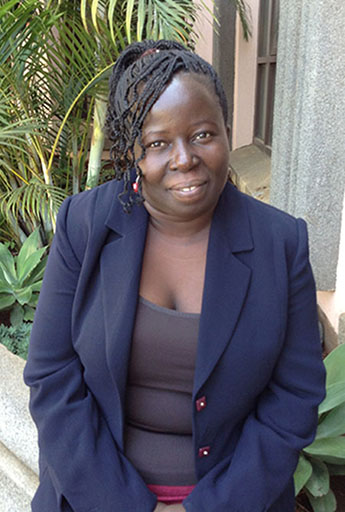 Ms. Linnet Agnes Awor participated in an advocacy workshop organized by the Health Policy Project for women leaders.
KAMPALA, Uganda—Linnet Agnes Awor grew up in Iyopoko, a small village in the Tororo district of Eastern Uganda. Most villagers there are subsistence farmers, living off of the small amount of food they can grow on their family plots, with not a lot to spare. Despite their daily struggles, Awor felt blessed. She had parents who loved her and supported her education.
"My mother was really inspiring," said Awor, now 36 and a national advocacy officer with Reproductive Health Uganda, an organization that provides integrated sexual and reproductive health services to Ugandan women. "She never went to school, but she valued education and she was such an encouragement to me. The day she was buried, I saw my future being buried with her."
Both Awor's parents died when she was 16. She saw a bleak future for herself, as many of her friends quit school and were married off. Even today, most girls in Uganda don't complete secondary school; only one-third as many girls complete secondary school as boys. Without her mother to advocate for her, Awor feared her dreams of going to university were gone forever.
But Awor's older siblings, like her mother, understood the importance of education. Her older brother used his earnings to pay for her tuition, and the community came together to help ensure the family's success, sharing what little they could. With the support of her family and community, Awor became the first girl from her village to graduate from Makerere University, one of Africa's top centers of higher learning.
After she graduated, Awor met the man who would become her husband. When she told him she wanted to pursue her master's degree, he was as supportive as her family and her community had been. With a scholarship to study in the United Kingdom, she spent 12 months studying management in public policy and program management.
"I was the first woman to graduate with a master's degree, not only in my village, but even in my husband's village," she said.
Proud of her accomplishments, Awor's husband and community held a celebration for her when she returned. Her community's love and generosity after losing her parents had made an impact on her, and Awor decided to "pay it forward" by dedicating herself to a career helping her fellow Ugandans. She took a job with Oxfam working in land rights and food security. After a few years, she saw an opportunity to work at Reproductive Health Uganda.
"It piqued my interest in family planning—it was a new area for me," Awor explained. "All along I had been doing advocacy for land rights and food security, but family planning was quite new."
At Reproductive Health Uganda, Awor became involved in implementing a regional advocacy project that promotes access to family planning in East Africa.
"I felt this would be a good opportunity for me to explore and see how I could encourage other women through family planning," she said. "Family planning could make their lives better."
Always looking for an opportunity to learn more, Awor applied to attend the Health Policy Project's (HPP) workshop on Women's Leadership for Family Planning and Reproductive Health, supported by the U.S. Agency for International Development and held in Kenya in May 2013. She was excited when she was selected, certain that the workshop would give her invaluable new skills to take her to new levels in her career.
The intensive and highly participatory workshop brought together 24 women from Ethiopia, Ghana, Kenya, Malawi, Tanzania, and Uganda. The south-to-south learning experience drew on international, regional, and local technical and policy experts, providing opportunities to apply communication and advocacy tools and approaches. Participants developed a comprehensive understanding of the family planning and reproductive health situation in their countries, the key issues that affect family planning and reproductive health funding and utilization, and strategies and resources for mobilizing and organizing policy events.
"I believe my leadership skills have been strengthened from this workshop," Awor said. "Looking through the leadership processes and stages we've gone through, I have benefited a lot, and I feel I have gained more as an advocate for family planning."
During the workshop, participants were split into country teams to develop an advocacy plan for their countries to implement when they returned home.
"First of all, working as a country team, I was able to hear from the parliamentarians and my colleagues from other organizations," Awor explained. "Putting our heads together and analyzing our country's situation was an experience that was so enriching to me."
Awor has been excited about taking her new skills back to her community. She knows that creating awareness about the benefits of family planning means saving mothers' lives, increasing child survival rates, and ensuring healthier communities. She is much respected in her community for her work.
"Whenever I go [home], they always listen to me, they consult me," said Awor. "Every time I go back to my community, and I meet those elders and people I grew up with and everyone asks me, 'Linnet, when are you campaigning to become our Member of Parliament?' But I feel it is not the right time for me to go into politics. I still have a lot to do."
Women like Awor are changing the landscape of their communities by becoming advocates for reproductive health and family planning in their countries. Capacity development opportunities such as the HPP Women's Leadership for Family Planning and Reproductive Health workshop provides these leaders with the skills, knowledge, and tools to save lives by improving access to reproductive health services.