The Health Policy Project has ended, but work continues under a new USAID five-year project, Health Policy Plus (HP+).
Health Policy Project at the 2014 International AIDS Conference

Resources
Search Publications
HPP at the 2014 International AIDS Conference
Overview | Schedule | Media | Conference Materials
The Health Policy Project (HPP) is pleased to participate in the 2014 International AIDS Conference in Melbourne, Australia, from July 20-25. The conference, now in its 20th year, will be a meeting point for those working in the field of HIV, as well as policymakers, people living with HIV and AIDS, and other individuals committed to ending the pandemic. This year's theme is "Stepping up the Pace," and the conference offers a chance to assess the status of the fight against HIV and AIDS, evaluate recent scientific developments and lessons learned, and collectively chart a course forward.
Throughout the entire week, HPP will be showcasing its numerous and varied capabilities in the field of HIV and AIDS interventions, including the project's work on key populations, health costing and financing, governance, policy and advocacy, and health systems strengthening. HPP staff will be involved in presenting a number of poster and oral presentations, as well as satellite sessions. A full calendar of HPP's activities at the conference is available here, or in the link to the conference schedule at the top of this page.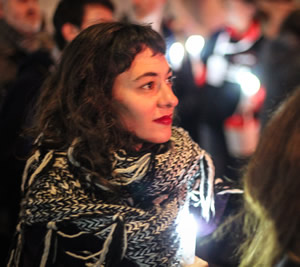 A candlelight vigil was held in Melbourne to remember the delegates of the AIDS conference who were killed in the MH17 plane crash, as well as those who have lost their lives to the illness.
It was recently announced that among a long list of high-profile speakers at the conference would be former US President, Bill Clinton, musician and activist, Sir Bob Geldof, jurist and academic, Michael Kirby, and UNAIDS Executive Director, Michel Sidibé. For the full announcement and a list of high-profile speakers, read this press release.
For the entire week, HPP will have a presence at the GRM Futures Group booth, which will be open in the exhibition hall at the conference. The booth will be a hub for the project for the week – a meeting point where we will showcase our capabilities and demonstrate how we are working with governments, NGOs, civil society organizations (CSOs), and other partners to make a difference in the fight against HIV and AIDS. Our staff will also each spend time at the booth engaging face-to-face with the international HIV and AIDS community.
The HPP communications teams will be covering our involvement at the conference all week. We'll be blogging and posting on social media throughout the week, so to stay up to date be sure to keep your eye on our Twitter and Facebook accounts and our website. You can also check out our media hub, included in the links in our conference portal, above.