The Health Policy Project has ended, but work continues under a new USAID five-year project, Health Policy Plus (HP+).
PUBLICATION
A Health Insurance Feasibility Study in Afghanistan: Learning from Other Countries, a Legal Assessment, and a Stakeholder Analysis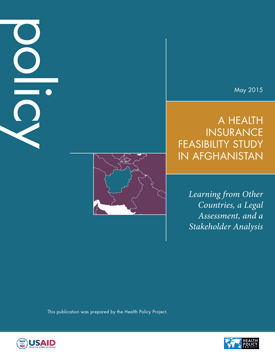 Author(s): Health Policy Project
Primary Language: English
Date: 5/31/2015
Abstract:
In the last decade, the health status of Afghans has drastically improved due to implementation of the Basic Package of Health Services (BPHS) and Essential Package of Hospital Services (EPHS). However, the health financing system in Afghanistan is fragile and is experiencing challenges to ensure the sustainability of service delivery in the country due to three interrelated challenges: (1) low government contributions to healthcare. The government contributes to 5% of total health expenditure (THE); (2) high reliance on donor funding. The BPHS and EPHS are largely supported by donors, and donor funding shares 20% of THE; and (3) high household out-of-pocket (OOP) spending on health. OOP bears 75% of THE. To improve the status of the country's health financing system, the Ministry of Public Health (MoPH) developed health financing strategies, aiming to generating more domestic resources for healthcare, reducing donor dependence, and providing financial protection for households. Health insurance is considered as one strategy to ensure that the health system becomes more sustainable. To assess the feasibility of introducing health insurance in Afghanistan and shed light on the steps needed to prepare Afghanistan to build a more sustainable health financing system, the Health Policy Project (HPP) conducted a health insurance feasibility study in Afghanistan. The phase one of this study consists of: (1) literature review of health insurance in three selected countries; (2) legal assessment of health insurance in Afghanistan, and (3) stakeholder analysis of health insurance in Afghanistan.